Bidding farewell to The Tink "The embodiment of Rock and Roll"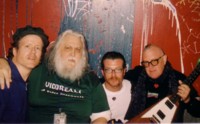 (Andy and The Tink with members of Eagles Of Death Metal at The Khyber Pass in Philly in 2004)
The Tink "The embodiment of Rock and Roll"
Larger-than-life, and with a passion for music to match, The Tink was one of the first video programmers I became friendly with over 15 years ago. But from the moment we made contact, he was much more than just a video programmer… He was a fellow rock 'n roll musical kindred spirit that I could spend hours talking with and always call a friend….
His enthusiasm for music was contagious. He would tell me stories of seeing the Velvet Underground and Captain Beefheart & The Magic Band back in the mid-60s, and talk endlessly about the thousands of hard rock bands that considered him a trusted associate and part of their promotional machine.
Everyone in the Metal music world knew The Tink and loved him! Though he many times went by the moniker "The Administer of Sinister", those who knew him well were never intimidated by his robust, 300 pound frame; he was personable, affable and totally approachable. The Tink wouldn't think twice about going out of his way to help you and will remain one of the staunchest advocates and champions of indie nation that I've ever had the pleasure of knowing.
In my many visits to The Tink's "corporate center" in Wilmington, Delaware, I came to fully realize how much he loved doing his weekly program VidDream, and how the show was equal parts music videos and equal parts his irreverent banter and sometimes outrageous interviews. The Tink unquestionably put the "show" back in "show business". He was the Metal rock 'n roll Santa Claus, and everyone who came within 12 feet of them could feel his pulsing, palpable energy. He will be missed.
Here at HIP we offer up our sincere condolences to The Tink's wife Midge, his family and close associates during this difficult time.