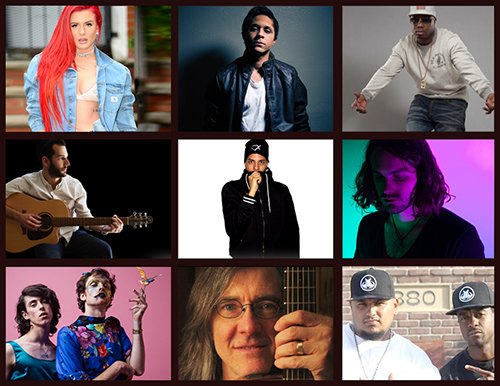 HIP Picks – The Weekly Client Roundup – 3/8
Here at HIP HQ, we're always working hard to promote great new music videos and help them get the airplay, placement, and promotional coverage that they deserve. From indie rock to hiphop to everything in between, we do it all!
To keep you in the loop, here's a round-up of some of the videos we've been working on promoting over the past week…
Adam Mishan's "Boomerang" music video shows him singing along with fans while driving around a Canadian cityscape. The chorus will make you want to sing along, stomp your feet, and stretch your vocal chords to match Mishan's impressive range.
John Hickman's "Hello Hello" music video tells the tale of a young man and woman experiencing all the beauty the world has to offer together, one moment at a time. The video was conceived by director Liam Morgan, and shows sketches of the two intermixed with everyday reality. "Hello Hello" is classic rock-meets-feel-good-indie-pop, and it's sure to leave you in a good mood.
WithLoveXavier's "Official" music video is a series of smooth, sensual visuals, from a blindfolded convertible ride to a dimly lit, steamy lounge. It's full of sex appeal, as the Brooklyn native is surrounded by beautiful women showing just enough skin, and is sure to please viewers.
PWR BTTM's "Big Beautiful Day" music video is a glitter-filled house party with all of its participants covered in face paint. As vocalist and guitarist Ben Hopkins answers a text from their mom, drummer Liv Bruce bursts into a room with a plate of waffles, a moment that a YouTube commenter calls "honestly iconic". It's a celebration of being yourself, in spite of- and because of- anyone trying to bring you down.
Mark the Hammer and PC Patton's "Never Stay Down" music video is an inspirational take on hip-hop that turns rap stereotypes on their head. It contains the vow of strength, spirituality, and positivity that the duo are known for spreading, using faith to "Pay it Forward" and help others overcome everything from temptations to addiction.
New Sick Music calls Jay Pray's "Smile" music video "emotionally gripping", and we can't disagree. The video shows a woman watching projections of memories she's shared with her husband, and comes to a climax as we learn that her husband has Alzheimer's disease and his memories fight to break through.
Tito Montana's "Must Be Crazy" music video uses fascinating animations by Allen Robbins to reflect in-depth on both past and present. It's both personal- showing unsettling visuals of Tito Montana's past- and political, featuring scenes of Ku Klux Klan members, Nazis, and government corruption.
Belle Vex's "Make It Good For Her"music video uses a humorous game show called "How the World Works" to teach viewers how to get the woman they want. It's a funky pop tune driven by a thumping bass line, while the video's full of irony and slightly cynical, commenting on some of the double standards towards dating in our society.
We've worked with Justina Valentine several times before, and we're excited to be working with her once again to promote the "Crushin On You (feat. M80)" music video. This time, she stars alongside her "crush" M80 and brings her dance skills to a masquerade party, where she works the room as the center of attention.
Written by Molly Hudelson. Molly is a music blogger, photographer, and Founder / Editor-in-Chief of Circles & Soundwaves. Follow her on Twitter and Instagram.