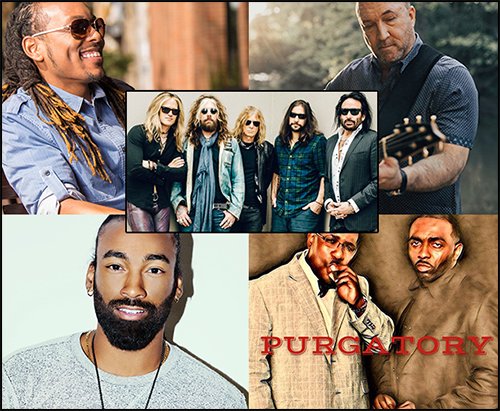 HIP Picks – The Weekly Client Roundup – Friday 7/14
Somehow we're already halfway through July- but with rainy weather and gray skies here in New Jersey, you wouldn't believe it. Here at HIP HQ, we've been as busy as ever, working with artists from all over the map providing every kind of sound. This video gives the low-down on some of our current projects, and we'll tell you a little bit about each one below.
In a belated celebration of Independence Day, The Dead Daisies have brought us their take on "We're An American Band", the song originally made famous by Grand Funk Railroad in 1973. The video follows the band around the country, with footage of Times Square, Mt. Rushmore, and festival crowds everywhere in between. It's an explosive track that the band hopes will remind American soldiers stationed abroad of their home country.
Drew Vision has returned with his brand new video for "Without You." Drew teamed up with executive producer Bryan Michael Cox for his new EP, Shades of Summer, and if the finely tuned pop efforts and soulful vocals on "Want 'em All" are any indication, it's going to be a hit. With a color palette of pastel pink and touches of yellow, the "Want 'em All" video is as sultry and sensuous as it is sugary sweet, as Drew surrounds himself with lovely ladies and showers them in affection.
South Carolina's Christou DaKeeng has been making music for over a decade, and with a smooth and tender "blend of old and new school flavors", we think he's here to stay. His latest effort is "Enjoying Life", a classic-meets-contemporary R&B track with a video shot in black and white. The "Enjoying Life" video shows Christou and friends exploring the city nightlife, playing music, and enjoying life.
Combat veterans Conscience Rhyme ("Crhyme") and OP-Solo ("Optimus Rhymez") are now back stateside living their dreams as the hip-hop duo Purgatory. Purgatory's mission is to "Enhance the generations through positive/creative music, spoken example, and chosen lifestyle"- and that's exactly what they're doing with their new video for "Let Me Love You." Georgia-based vocalist Teeya Skipper is featured on the song and video, which showcases the beautiful Atlanta skyline as its backdrop.
With a mantra of crafting "real music for real life", John Tracy's acoustic folk-rock tunes are moving, unique, and human. The "Midnight Moon" video uses a connection to nature to encourage us all to evaluate the bigger picture when life tries to bring us down. John plays guitar under the stars as he reminds us that the important things in life- love, family, and compassion- can make all of our worldly problems feel small.
Written by Molly Hudelson. Molly is a music blogger, photographer, and Founder / Editor-in-Chief of Circles & Soundwaves. Follow her on Twitter.