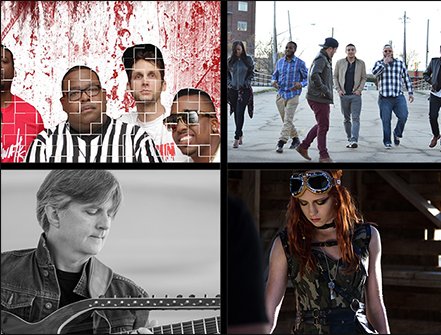 HIP Picks – The Weekly Client Roundup – Friday 7/7
Wow, can you believe it's July already? June absolutely flew by, and we've been as busy as ever, working with artists from all over the map providing every kind of sound. This video gives the low-down on some of our current projects, and we'll tell you a little bit about each one below.
When most people hear the initials "ATL" they think of the city of Atlanta, but to us, it calls to mind one of our favorite new acts, Atlanta natives All The Locals. This "soulternative" band have just released the video for "Weatherman", which features lead singer Johnny Schmarkey caught in a regular downpour, as well as performance shots of the band.
At only 14 years old, Alexa Friedman has already spent a decade working on her musical, acting, and dancing career. Her first music video for "Enraptured" is a professionally shot clip by director Spencer D. Evans, with a sultry rhythmic backbeat underneath an uptempo dance track. Steampunk aesthetics meet a dystopian desert landscape, where Alexa takes it to the battlefield- fortunately, she's prepared with all the right moves.
Music can put you in a good mood, and Todd Curry's latest effort, "Tear Down The Walls 2″, is a truly uplifting track, inspiring listeners to "Tear Down The Walls" that keep us apart, and come together as one. "Tear Down The Walls 2″ puts a hip-hop spin on the track, bringing this positive message to youth who need to hear it the most- like the basketball teams at The Burlington School in North Carolina that are featured in the video.
Finally, Todd Mosby New Horizons Ensemble return for his newest video for "Moon Song." Todd Mosby is groundbreaking guitarist, composer, and improviser who provides an enthralling blend of new age, jazz, folk, and world music. "Moon Song" is led by an intriguing and intricate guitar line, and the various instruments combine to create a lush musical landscape that's sure to ease your mind and refresh your spirit.
Written by Molly Hudelson. Molly is a music blogger, photographer, and Founder / Editor-in-Chief of Circles & Soundwaves. Follow her on Twitter and Instagram.