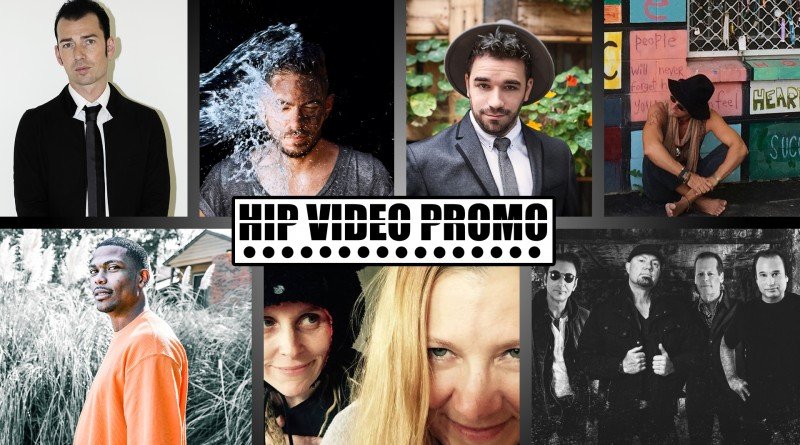 HIP Picks – The Weekly Client Roundup – Tuesday 10/24
This Thursday, October 26, 2017, HIP Video Promo will be celebrating 17 years in business. It's mind-blowing to think about the variety present in the nearly 2700 videos we've promoted, and it's rewarding to realize how many artists we have helped get to the next level in their respective careers. The newest HIP Picks – Weekly Client Roundup video gives you the low-down on some of our current projects, and we'll tell you a little bit about each one below.
From "Reckless" to "Spell On You" to "Sunday Morning", our favorite Danish pop artist Laust Sonne is back with yet another supremely stellar video. This time he's bringing us the clip for "On The Radio", a track that details the jealousy and nostalgia he feels once a former lover has broken his heart. The video takes place in the midst of bustling city life; but no matter what's going on around him, Laust Sonne can't help feeling deeply nostalgic over this lost relationship.
There's something we can all appreciate about a musician that's honest while maintaining a sense of humor, and Ori Dagan's "Sting of the Cactus" is just that. "Sting of the Cactus" comes from the world-class jazz musician's album Nathaniel: A Tribute to Nat King Cole, which will be accompanied by a dozen music videos, making it the first "visual album" in the jazz genre. Accompanied by a delightful animated video, the song begins with the line "Being a musician is absurd" and proves to be an honest and inviting way of connecting with audiences.
Coming to us all the way from Peru, REMZ is a groundbreaking indie-pop artist on a mission. His new single "Where You Belong" landed him a contract with the major international telecommunications conglomerate Movistar as their principal song for one year, and he's the first Peruvian artist to do so. Produced by Bismarck Rojas, the music video shows how the energy of youth and the wisdom of age can combine to allow us to reach for the stars and dream without limits.
You may not be familiar with Beaux Cheveux, but chances are you're familiar with their influences: guitarist Adrian Conner also plays the role of Angus Young in the AC/DC tribute band Hell's Belles, and drummer Clementine plays as Bonzo, drummer of the Led Zeppelin tribute band Zepparella. But Beaux Cheveux combine these influences with futuristic, electronic textured instruments for a sound that's all their own. The video for "Deeper Feeling", the first single off their forthcoming debut Ro Sham Bo, is an endlessly fun clip that shows that this dynamic duo take just about everything seriously… except for themselves.
Coming to us all the way from the Gold Coast of Australia, AKoVA has brought us a heartfelt story with the new single "Headlights." A multi-instrumentalist that's skilled in everything from guitar to ukulele to djembe, AKoVA's journey began as a child, and he's spent his life working to master his craft. "Headlights" is an open letter from father to daughter and a truly emotional journey, as we see AKoVA walking the streets of his neighborhood as the camera perpetually breaks away from him, as a metaphor for watching his girl grow him and let go.
Aaron Robinson is one of many hip-hop artists to come out of Atlanta, but his brand of gospel-rap is truly original, preaching a message of enlightenment to an unguided generation. After moving to the city from Muskegon, Michigan, he hit the studio and wrote his new single "365 (Confess His Name)" in just one hour when the holy spirit came through him. The song is an inspirational anthem and the video features Robinson showing the light to those who need it most.
Chicago has no shortage of musical energy, and its latest export The Outfit is full of face-melting rock and roll energy. Their newest single "Soldier Boy" is both catchy and aggressive, and it's also a fitting commentary on our nation's current state. Coming at us as the second single from their forthcoming self-titled debut, the video features actual footage of US military at war, for a resulting clip that is both visually and sonically dynamic.
---
That's our list of HIP Picks for this week! What new music videos have you had your eye on lately? Be sure to let us know on Facebook or Twitter what your favorite clip is this week!