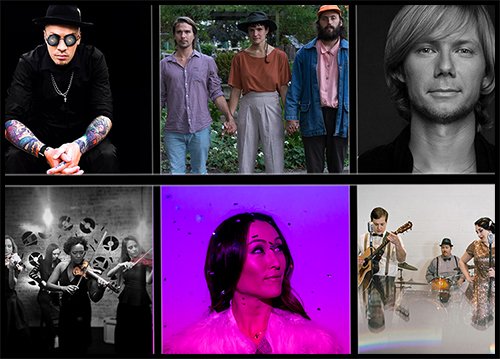 HIP Picks – The Weekly Client Roundup – Wednesday 4/26
Greetings from HIP Video Promo HQ!
There's never a dull moment here on the outskirts of New York City, and we've been fully engrossed in our work writing one-sheets, pitching music videos to programmers, and helping our clients grow their social media presence. We're always working on something new, and we love having our feet wet in all genres of the music industry. From indie rock to hiphop to everything in between, we do it all!
To keep you in the loop, here's a round-up of what we've been working on over the past few weeks…
Years ago, we worked with indie label Saddle Creek for some truly stellar videos by artists like Cursive and Bright Eyes, and we're thrilled to be partnering with them once again to promote Big Thief's music video for "Mythological Beauty". After the critical acclaim for their debut album Masterpiece, fans and critics are eagerly anticipating Big Thief's sophomore album Capacity. "Mythological Beauty" comes as the lead single from Capacity, and the video- which was filmed at Benmarl Winery in Marlboro, N.Y.- tells the story of a mother coping with a severely wounded child and dealing with the immense responsibility of the incident. The "Mythological Beauty" uses magical imagery to tell the true story of a scar lead vocalist Adrianne Lenker has on the right side of her head. It's a compelling tale, made all the more irresistible via Lenker's powerful, yet intimate, vocals.
Chances are, you're familiar with Gnarls Barkley's hit song "Crazy", but just wait till you hear Electric 5's take on the track. Electric 5 is a Chicago-based string quintet, known for their ground-breaking covers of popular songs. The "Crazy" music video is no different. In the video, we see Electric 5 founder Adia get scorned for taking revenge on her partner; it's a haunting and impressive clip, showing off the five musicians' immense performance skills.
We've had the pleasure of working with Los Angeles-based singer-songwriter MALEA and several videos already, and we're thrilled to be partnering with her for another stellar clip. "You'll Never Fix My Heart" is a piano-driven, romantic tune- a step away from MALEA's typical dance-pop offerings. Simple, honest, and raw, it showcases her Broadway background and classical training.
From the Metro Detroit area to outer space, ATMIG are an alternative-indie meets folk meets shoegaze group, ready to make waves worldwide. Their debut music video, "Trip", shows a young girl blasting off in a cardboard rocket, daydreaming to escape reality while her parents fight. It's youthful but passionate, and we can't get enough.
Moscow-based musician and Hidden Vibes creative force FREE.D has returned with another fascinating video. This time, he's remixed Roma Moss and hOLY's track "Leaving Traces". The original track features a mix of guitars, analog synth, and live violin with hOLY's truly magical vocals; FREE.D's take is electronic, quirky, and hypnotic. With the combined efforts of Sevya Vyodstsev (illustration), Igor Irbitskiy (direction/ animation/ idea), and Alexander Dymox (project manager), the "Leaving Traces" music video shows what it's like being just another cog in the machine, and will leave you with one question: what is our true reality?
Being a successful musician requires hard work, determination, and the willingness to take chances even when things aren't a sure bet. No one knows that more than Ricky Official, who moved from Germany to Atlanta, Ga. in 2014 to pursue his rap career. In his debut visual for "Work in Progression", we see Ricky juggling the pursuit of his musical career with being in a relationship. It's not always easy, but he assures his adoring partner that "If you can just bear with me, I'll make it worth your while."
Written by Molly Hudelson. Molly is a music blogger, photographer, and Founder / Editor-in-Chief of Circles & Soundwaves. Follow her on Twitter and Instagram.