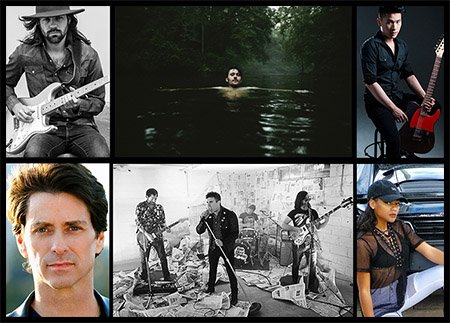 HIP Picks – The Weekly Client Roundup – Wednesday 5/31
Greetings friends and beloved clients, and welcome once again to the HIP Video Promo Blog!
It's been a packed couple of weeks here at HIP HQ. But as busy as things get- with one-sheets to write, programmers to follow-up with, and new clients to reach out to- it's never boring. We've had the pleasure of working on a wide variety of music videos as of late, touching on genres from pop-punk to R&B to rock and roll to country.
To keep you in the loop, here's a round-up of what we've been working on over the past few weeks…
With a Monkees-meets-MC5 vibe, Room Full of Strangers are rock and roll personified. "Modern Media" comes as the first single from the forthcoming album Plastic for Packaging, and it's a call-out to the listener to break free from overabsorption in the media and start "living free". The "Modern Media" music video is framed as a broadcast showing the dangers of "Fake News", and it's set to premiere on the Huffington Post on Wednesday, May 31.
While Tampa-native ChevyGurl only just released her first single "Skinny Jeans", she's been writing since she was in elementary school, when she grew up in the studio with her father. The "Skinny Jeans" music video is "about a girl who has everything in life", driving two different convertibles, picking out "the cutest pair of jeans" at the mall, and meets some cute guys along the way.
Travis Marsh recently premiered his video for "Lay Me Down", but fair warning: it's not for the faint of heart. Marsh is shot by G. Herbo- the young Chicago rapper who features on the song- and is joined in a motel room by a striking, yet mysterious woman (Asphyxia Noir) who has come to remove the bullet and clean up his wounds. If you're a fan of sun-bleached California pop or desert country-rock, we think you'll enjoy Travis Marsh's tunes.
The brainchild of Birmingham native and longtime musician Michael Shackelford, Future Elevators have garnered critical acclaim and plenty of attention with their debut self-titled album. The "Modern World" music video shows a panorama of New Orleans, and we see the city's residents groove to the music and look up at the sky. Close-ups show dozens of pairs of eyes flashing over the screen, an inspiration to us all to incorporate multiple perspectives into our own lives and how we see the world.
Nostalgia is in vogue right now, and for those whose teenage years were in the early 2000s, Kevin Tiah's new song "Bring Back 2005″ is spot on. "Bring Back 2005″ sounds like it's straight from a Warped Tour headliner like Simple Plan or The Starting Line, and with nostalgic references to everything from Limewire to Hot Topic fashions, this pop-punk singalong jam will have viewers wishing they were back in 2005.
Hawaii native and Southern California resident MusicByKip has been making music for most of his life, and his debut video for "Without U" is absolutely enchanting. A romantic ballad with a touch of classical country, "Without U" shows Kip yearning for his leading lady, as she's light years away in another galaxy.
Written by Molly Hudelson. Molly is a music blogger, photographer, and Founder / Editor-in-Chief of Circles & Soundwaves. Follow her on Twitter and Instagram.