Incoming: I Draw Slow, Ace Reporter, and Adrian (and The Sickness)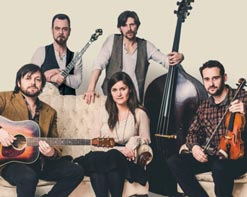 From Dublin, Ireland hails a band that connects the past to the present, tying in classic elements and contemporary feels. I Draw Slow is this year's most eclectic band, and HIP Video Promo is pleased to introduce the video clip for the uncanny single "Goldmine." I Draw Slow is a five-piece band comprised of vocals, guitar, fiddle, banjo, and double bass. This alternative-country, folk, old-time, and Americana band has created a new sound that listeners will find rooted in the old-time style of the Appalachian Mountains.
Drawing to traditional Irish music and modern Americana, I Draw Slow creates entities of songbooks that contain unwritten stories and melodies, especially throughout the album Red Hills. Dark tales of debauchery and trouble highlight what siblings Dave and Louise Holden have been trying to master together over two decades. Starting on Dublin's performing circuit with funk-inspired musicians in Tabularasa, the pair has worked with violinist Adrian Hart, claw hammer and banjo player Colin Derham, and double bassist Konrad Liddy. Since then, Dave and Louise's music has evolved into the genius collaboration called I Draw Slow. Click here for the full bio.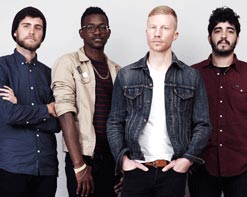 What began as a creative music experiment in 2011, Ace Reporter has evolved into a full throttle musical exposition of stellar songwriting and an exceptional sonic presentation. HIP Video Promo is pleased to introduce their exciting new video clip "Untouched and Arrived." This Chicago-based indie-rock band has divulged the contemporary music scene with memorable hooks and charismatic live performances. In 2010, songwriter, composer, vocalist, and multi-instrumentalist Chris Snyder embarked on what he called the Threesixfive project: each day came with a mandate for him to start and finish a new track.
With motivation and drive, four EPs emerged and eventually transformed into a full-length album. Yearling XL, Ace Reporter's full-length, was recorded in a converted barn in upstate New York in the spring of 2011. Self-produced by Snyder himself, the album was engineered and mixed by Chris Grainger, known for his work with Wilco and Switchfoot. Filled with an array of vast emotion, the album is gathered from experiences and inspirations that propelled lead singer Chris Snyder throughout his year of magical thinking. One of Ooh La La Records' finest bands known to date, Ace Reporter delivers mightily with their astonishing new video for "Untoched and Arrived." Click here for the full bio.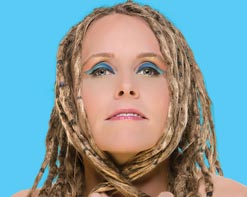 For years, Adrian Conner of Adrian (and the Sickness) has taken the world by storm with her endearing vocals and lively performance technique. However, we are pleased to be following Adrian as she turns over a new leaf in her endeavors as a solo artist. HIP Video Promo is pleased to introduce her newest video clip, "Take the World." Adrian Conner is untamed and commanding in "Take the World." The tune is consistent and Conner's kinetic performance is timely.
With roots centered around 90's alternative, the song captures love in it's brightest light, watching one man's escape from his darkened existence towards the bright light that Adrian is projecting. It's a creative combination of some very basic cinematic techniques combined with some tasteful computer graphics. "Take the World" is an ode to what Conner has achieved throughout the past decade—creating and releasing seven studio albums! Click here for the full bio.