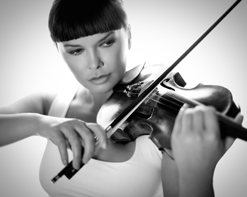 Assia Ahhatt's career and background is much different than your average pop singer. There's no small American town with the kid growing up as a local celebrity and then moving to LA, NYC, or Chicago to pursue bigger aspirations of pop stardom. Instead, Assia's foray into dance-pop came after she had deeply entrenched herself as a violinist in the world of classical music, which she used as a basis to create her unique mix of electronic pop and electric violin.
Born in Ukraine, she grew up tirelessly pursuing her goals of becoming one of the premiere violinists in Europe. After graduating from The National Music Academy, she studied at The Music Academy in Nice, France. As the soloist of The Ukrainian National Philharmonic and the first violin of the string quartet Capris Plus, she performed at many famous European concert halls.
She soon released her first album titled Homo Novus and it was full speed ahead from there! She's been steadily growing her fan base and reach, performing at festivals alongside artists such as Andreas Vollenweider, Robert Plant, Sting, Depeche Mode, and more! For her newest single "If Only Tonight" she has crafted what might be her finest work yet, a contemporary explosion of emotions and rhythms.
For the accompanying music video, Assia has teamed up with some old friends, both from the pop world an the classic arts world, to create what can only be described as a wild roller coaster of a ride through extravagant sites and sounds. She brought in Igor Ivanov to direct, having previously worked together, and also enlisted Nazar Didyk, a good friend and ballet choreographer to design a few absolutely unexpected looks for Assia. The video is set in a cylindrical hallway with pulsating lights, a leather clad percussion ensemble, in-sync dancers, and most importantly, Assia herself at the helm.