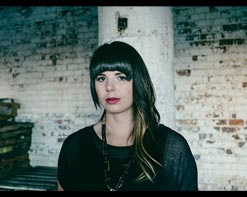 Meet the artist that The Riverfront Times describes as "a bourbon-warmed Neko Case"—Beth Bombara. Colliding wisdom and light cascades of vocals, this artist blends folk, country, and blues to make a unique and solid concoction. HIP Video Promo is excited to introduce two of Bombara's eerie yet satisfying clips "Right My Wrongs" and "Long Dark Hallelujah."
This Grand Rapids, Michigan native and now St. Louis local's music is wise beyond years and includes ranges of different, contemporary genres. As the force behind two EPs and a full-length album, Beth Bombara's performances are good natured and vibrant with subjective lyrics. First as a member of Samantha Crain and The Midnight Shivers, and then as a solo artist, Bombara has toured various places and performed at local venues throughout the country. Kicking off a new tour in April to support her newest release, Raise Your Flag, Bombara gears up for a career of a lifetime in the following two clips.
Shot and directed in a lonesome warehouse, soon to be art exhibit, by Joshua Black Wilkins, "Right My Wrongs" was written about the destruction and rebuilding of personal life, and the power of breaking free from the things that bind us. The Columbia Tribune spoke about the tune as containing "soulful guitar stabs and a swirling horn section." Performing with Kit Hamon, Karl Eggers, and JJ Hamon, Bombara's lyrics are is urgent, but so timeless. The video is a perfectly constructed accompaniment that shares the uplifting vibe of the song, complete with desaturated and deconstructed shots around the performance space which they occupy.
Once again filmed and directed by Wilkins, "Long Dark Hallelujah" puts Bombara's newest album Raise Your Flag on display. Presenting viewers with a somewhat unsettling uncertainty, she helps us confront our sins in the best sort of way. Calm, yet quirky, Bombara puts all her cards on the table in this clip alongside bass, fiddle, and zither player Kit Hamon. "Long Dark Hallelujah" is an ode to strong and inquiring lyrics and innovative instruments.