Introducing Neil Nathan Inc.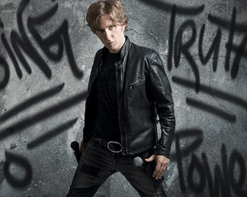 From the artist who brought you the videos for "California Run" "When The Rain Falls" and "Do Ya," comes a new video inspired by the revolutionary spirit in the graphic novel and film, V for Vendetta. Coinciding with Britain's Guy Fawkes Day and the US Government Shutdown, Neil Nathan injects a little dark humor into his newest video. HIP Video Promo is pleased to introduce "Evey."
"Evey" is a jaw-droppin computer animated video that is visually catchy as the song itself. In it, Nathan explores V for Vendetta's main protagonist V's conflicted heartbreak at having to die for the sake of the revolution and say goodbye to exploring a love he has never felt before with Evey Hammond. The video also explores the romantic lure of V's transformative influence on the song's evolution from innocent to world-weary revolutionary. Although the message is deep and serious, the song itself is classic Neil Nathan, with a undeniable nack for writing retro pop rock riffs and hooks and melodies that would make any Brit rock advocate take notice. Like the song, the video itself may feel dark, but is teeming with life. It is primarily a black and white presentation that is intermittently saturated with vibrant colors that leap off the screen! Click here for the full bio.