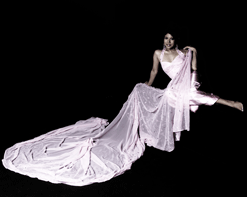 For a number of years now, renowned Sri Lanka born, now Australia-based singer/songwriter, Senani, has been making considerable waves over in the Southern Hemisphere and is now determined to share her wonderfully fresh sound to the rest of the world. Heavily influenced by R&B, neo-soul and the traditional South Asian/Indian music that she grew up listening to, Senani has managed to fuse all three styles into a one delightfully addictive sound that is all her own. Her sexy new music video for her fresh and soulful single, "Free," is a perfect introduction to those who haven't been lucky enough to discover Senani yet.
Unabashed about and completely receptive to the deep spirituality that lies at the core of her emergence as a recording artist, Senani is, in every possible way, all about soul, and knows how to write music that touches us at our core. Inspired by highly rhythmic and intricate Indian music, with melodies and scales that complement each other perfectly, to set her apart from other artists, she channels her roots as her secret weapon. "My mom (a well known actress, singer and dancer in Sri Lanka in the '60s and '70s) used a lot of native instruments, and I grew up listening to her singing and performing, so they are part of my collective musical memory," says Senani.
"Free' is all about freedom, being unrestricted to be who you want to be, unlimited, forgoing the roles society wants us to play," she says. "It challenges us to break the barriers and social norms including our ideas about marriage, jobs, the way the system is run and gender roles." The stunning Daniel Coolahan-directed video for her new single represents an abandonment of social norms and running free (symbolized metaphorically) with nature along the coastal line of the great ocean road in Australia. Lyrically and musically, it gives the listener a taste of freedom from the other side. Click here for the full bio!