Introducing: Shayna Leigh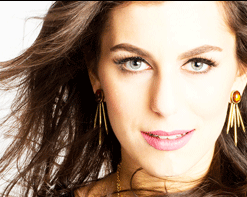 Even with its burgeoning community of performers and artists, even a city like Orlando can seem like a small town when you have big dreams. For an artist like Shayna Leigh, even though it was home, it was only a stop on her musical journey. So after high school she packed her belongings and headed to the only place that could accommodate that goal…. New York City. Upon her arrival and while working through college she worked some unrewarding jobs in retail, until deciding it was time to take her career into her own hands.
Inspired by the Broadway and Cabaret divas that came before her – Bette Midler, Audra McDonald, and Linda Eder – and raised on the likes of The Beatles, B52′s, Carole King, Beyonce, Queen and Carly Simon, Shayna finds inspiration from all corners of the music world. What's most important has always been the talent these artists possess, whether it be natural or through tireless hard work. Once taking things into her own hands she began writing and recording original material, and the results have been nothing short of stunning. Her new full length album, Tenderness, is a soothing blend of piano-driven ballads and soul-infused pop numbers that instantly connects with listeners by channeling artists like Natalie Merchant, Adele, and Sarah McLachlan. Songwriter Monthly calls her "a one in a million original" and Aquarian Weekly has called her live show "a triumph." Amongst all of the stellar songs the standout track amongst them all is the sultry and heart-tugger "Map of My Heart."Click here for the full bio!