Introducing Ships Have Sailed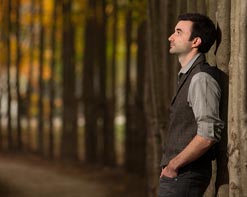 The eclectic Los Angeles based Ships Have Sailed, whose dazing debut EP Someday reflects thoughts on the outcome of the future, are exciting and filled with contagious energy. Their latest clip "Midnight" puts the band on display, and HIP Video Promo invites fans into the fantastic realm of this thrilling new artist.
Will Carpenter, the band's founder, is an east coaster at heart—raised by Renaissance women, his eccentric mother and four talented sisters influenced his whimsical spirit. For the last eight years he has become submerged in LA pop culture, having toured with several influential bands. He currently plays lead guitar for 7Lions, a rock/hip-hop infused group signed to 2101 Records.
Forever making music to move people, Ships Have Sailed is Carpenter's artistic vessel. Pouring his passion for songwriting into it, he displays tender sensitivity and clear mindedness. The melodies of the band's Someday EP show the spectrum of the band's stylistic musical elements. Raw, acoustic lullabies and synth-driven, rock anthems mixed with contemporary rock and pop elements excite new music fans, especially in Ships Have Sailed's clip "Midnight." Click here for the full artist page on HIPVideoPromo.com.