Introducing The Crying Spell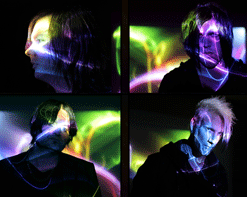 The Crying Spell is a textbook case of a band that has been able to evolve and roll with the punches over the years, always staying one step ahead of the musical trends and managing to position themselves as trailblazers of sorts. Members Eric Snyder, Len Hotrum, and Chase Culp have been the core members for nearly 20 years dating back to their youth in Seattle. Their first effort was days away from signing a major label record contract until the label was merged into the Universal camp and dissolved. Instead of being discouraged they regrouped and rebranded themselves as a hard rock outfit called PointOne (whose "Monochrome Mistress" video HIP brought you in 2007) and they found fast success, touring with bands like Godsmack, Sevendust, Buckchery, and many others.
But despite all of this, something didn't feel right and they decided they would once again shift gears and embrace their love of new wave acts like Duran Duran, The Cult, The Cure, while drawing inspiration from club acts like Skrillex and Deadmau5. Add in keyboardist Kevin Preston, and what began as a side project turned into a full-fledged devotion and The Crying Spell was born. They even coined a term for their sound, they call it "Modwave!" They've already had the pleasure of sharing the stage with acts like Killing Joke, Julien-K, and Filter.
Their newest album, Spectrums of Light, features an eclectic mix of new wave and rock, showing a clear development of their sound. The standout track of the bunch has to be the new single "Elemental." It embraces all of the adjectives we've used so far, combines it with a killer hook, and sure enough you've got yourself a hit!