Introducing: The Mootekkis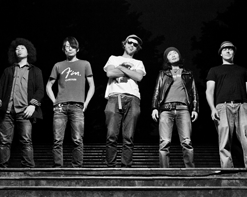 The music of the psychedelic Tokyo-based band The Mootekkis brings retro garage rock back into the modern era, fusing it with classic punk and straight up hard rock. This band delivers an innovative sound that is done in a style that has been described as boozy and loose. HIP Video Promo is excited to present the video clip "The Whiskey" with standing ovation.
"The Whiskey" is a purely rock 'n roll tune that emanates all that The Mootekkis' sound encompasses. The style of the music video is a fusion of contemporary images that spread the appeal of these modern rockers. Scenes in "The Whiskey" are bold and go hand-in-hand with the power of this captivating tune. The psychedelic vibes and the beating each band member is dealt by the young comic-book-esque dame in the clip leave us mystified as The Mootekkis create a whole new genre that Jimi Hendrix would be proud to experience. Click here for the full bio!