Introducing: Tic Tic Boom!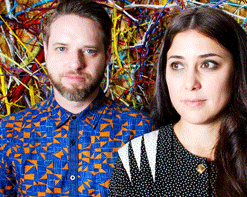 In the indie world, DIY is a term bandied about so often that the word has lost all meaning. LA-based electro-pop favorites Tic Tic Boom!, however, truly keep it DIY and all in the family. The duo, composed of real-life couple Mike DeLay (instrumentation/engineer) and Leilani Francisco (vocals/keys), have created their own hyper-colored universe of pulsing beats, sweat, soaring vocals and frenetic live shows where everyone is invited, and having a good time is the only rule. With that said, lyrically they aren't afraid to explore some deep subject matter. In their music video for their undeniably addictive, trance-inducing, heavy-hearted new single, "How It Ends," they share a story of a once blissful but ultimately ill-fated couple.
The video for "How It Ends," masterfully directed by singer Leilani Francisco, and featuring two of their close friends in the lead roles, follows a man trying to keep on keeping on after his partner passes away, but his broken heart is slowly shattering his will to live. The spirit of the girl watches over him and witnesses him becoming weaker with every passing day. The imagery of a once strong and happy man now unable to get back on his feet without his lost love definitely provokes thoughts of "What has happened to the girl?" and "Was it a tragic accident or some sort of illness?" The powerful video certainly leaves viewers with questions, but that's clearly the intent of Tic Tic Boom! The video is a fitting backdrop to a heart-wrenching, yet very irresistible song. Click here for the full bio!