Katia to showcase at Florida Music Festival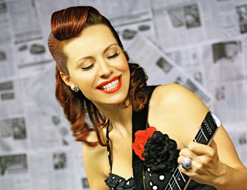 Katia is on fire! Not only does she have fans buzzing with her sultry and intriguing new video for "Girl Like Me," she's also earned a showcase slot in this year's Florida Music Festival & Conference, running from April 21 through April 24. Be sure to keep an eye on the festival's official site to find out when and where Katia will be performing.
And if you haven't checked out the "Girl Like Me" video just yet, you're in for a treat. Four Katias = four times the glamour amidst classic Coney Island cameos.