Merry Christmas! Watch: Sariah "Santa Baby"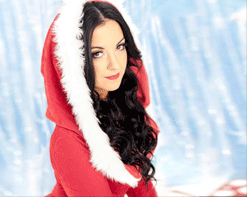 Multi-talented Dance/Pop Artist Sariah exploded onto the Scene in 2010 with her Billboard Club Chart hit "Deep N Luv," and celebrates the Yuletide with exciting array of Producers, including Ru Samath, Russ Desalvo, Jeff Franzel and Jimmy Greco. Three years after Sariah's explosive emergence with her Billboard Club Chart hit "Deep N Luv," the multi-talented dance/pop artist—known affectionately as the "Queen of Hearts"–is still grooving and celebrating, ringing in what promises to be another joyful holiday season with a true Holiday Heart.
A playful and infectious showcase for her sexy, shimmering and seductive style, Sariah's debut Christmas EP on Reigning Heart Records includes fresh, adventurous twists on six well-known holiday standards and the newly-penned, club-ready original lead single "Only One Wish," which breaks new ground as the perfect introduction to Sariah's wild, one of a kind world. "There's something on there for everybody," she says. "As a whole, Holiday Heart has a big sound that's fresh and fun. 'Only One Wish' is about the transition I've been having in my personal life. I'm becoming more independent as an artist and a woman, and I'm finally standing up for who I am and what I need. There's a fun melody to it, and we wanted to make something unlike everything else you hear during the holidays."
Sariah, The "Queen Of Hearts" is already celebrating the holiday season as she debuts her video for the classic song "Santa Baby" from her EP Holiday Heart. The video was shot in New York City and features a number of seasonal scenes as well as the chance to hear Sariah lend her voice to an American classic which was originally composed by Joan Javit, Philip Springer and Tony Springer. Sariah's version of "Santa Baby" featuring Duwende was produced by Ed Chung (who is part of the group Duwende) and the video was directed by Brian Jenkins and Jonathan McHugh of J2 Music.