Nathen Maxwell auctions off bass for Haiti relief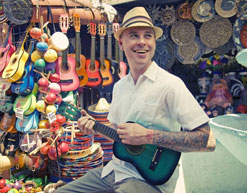 Nathen Maxwell is putting up a signed Ernie Ball Stingray Bass for auction at Locals Barbershop in Denver. All proceeds of the sale will go to Oxfam America to support Haiti. For those interested, you can place your bid (a minimum of $1,500) here. The bass will remain on display until the final event this Saturday, Feb. 20. Photos of the bass can be seen on Nathen Maxwell's Facebook page.
He also recently played a benefit show on Friday. Feb. 5 with Synthetic Elements, Lola Black, Battleship Agenda and Vegas Crimes, where all the proceeds also went to Oxfam America.