PREMIERE: PIXIES "Ring The Bell" via Radio.com.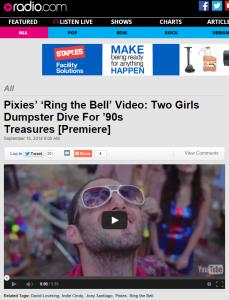 When Lital Mizel and Adi Frimmerman filmed a sleepover in Mizel's bedroom back in 2005, lip-syncing and dancing to the Pixies' song "Hey" as a birthday present for Frimmerman's boyfriend, the two had no idea the clip would go viral to the tune of 34-million YouTube views (as of 9/2014) or catapult the two promising filmmakers to internet cult status. Nor, when the two attended the Pixies' show in Israel this past June and went backstage afterwards to meet them, did they ever dream a half-joke of offering their services to make another video clip for the band would be met with a green light. But both incidents happened. Conceived and directed by Mizel and Frimmerman, the brand new music video for "Ring The Bell," from Indie Cindy, Pixies' first new album in more than 20 years, is available today and can be seen here. The clip follows two girls (Mizel and Frimmerman) traveling with a supermarket cart, collecting discarded items from the streets. With this "junk," they arrive at their sanctuary in the woods where their "Generation-Y" friends gather to celebrate a kinder, happier, but faded-away world of PacMan, boomboxes, plastic charm bracelets, VHS tapes and cassettes, Care Bears, record players, roller skates, cornrows, mirror balls, round sunglasses and bubble blowers, now replaced by a 24/7, plugged-in mentality. Explained Mizel, "The way we see it, the song is about that moment of ending, where you look back and long for those moments in a time and place that will soon fade away."
Today was the exciting premiere of the Pixies new music video "Ring The Bell" via radio.com. Check it out here!