The Dead Daisies are back with a live performance that will rock your socks off!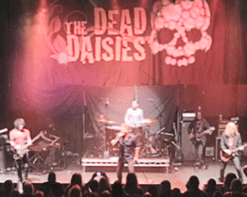 HIP Video Promo is pleased to once again work with this super group of rock and roll personalities on their no frills new video for the standout track "Washington."
It was at the sold out show at the o2 Shepherd's Bush Empire in London that director Phil Poole shows us just how rock and roll
The Dead Daisies
music really is in this captivating video. Every element of the live show is captured, from the backstage camaraderie, the soundcheck, and most importantly the killer live show. Images of the crowd bring to this live performance to life, and The Dead Daisies have an undeniably high energy throughout the entirety of the clip, showing us once again that there are few others that can match this level of showmanship. "Washington" is a song that excites rockers from every walk of life and this video is the perfect visual encapsulation of that feeling!