Watch: Eddie the Brave "Running, Flying, Jumping!"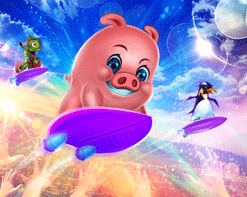 Eddie the Brave is this year's most noteworthy animated sensation. The first single "Running, Flying, Jumping!" of the virtual band is becoming recognized by thousands of people around the world. HIP Video Promo is pleased to introduce the hottest video clip for this fresh new single.
A brave and cute Chilean piglet named Eddie has left the comforts of his farm in search of freedom from his future—being cooked into bacon. Soon he learned that he could travel around the world just by becoming a determined little piggy. Now, Eddie breaks the rules and decides it is time to create his own band, Eddie the Brave. Their first single "Running, Flying, Jumping!" is a cheerful pop song that talks about the inner value inside each one of us and how this spirit can make our dreams come true and address life's challenges. It is a catchy song and a positive message that is available in 4 languages: English, Spanish, Japanese, and Chinese.
The English and Spanish versions are both interpreted by three promising Chilean artists: Andres Vilensky, Sebastian Osses, and Souvenir Versatil. Kawlinz, a Canadian artist, is great for hip- hop sung in English. In addition, the Japanese artist Toshiro Murata, who is a multifaceted singer, sings the Japanese version. No matter the language of the song, the spirit remains the same: "With courage we can address the challenges and make our dreams come true."