Watch: The Cherry Drops "Outta' Sight"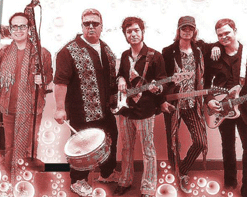 Transforming contemporary music, The Cherry Drops have built their musical creations around classic influences like The Beach Boys, The Beatles, The Monkees, and countless other artists. HIP Video Promo is pleased to present their newest video "Outta Sight" where The Cherry Drops redefine the workweek with party-rockin' guitars and strong vocals.
The Cherry Drops exploded onto the musical scene on a hot day in the summer of 2012. The band is comprised of principal songwriters Vern Shank on lead vocals and guitar and Joshua Cobb, who is known for his dynamic background vocals and production techniques. Rounding out The Cherry Drops sound is Evan Foster from Seattle, WA lending blazing guitar riffs to "Outta Sight", and bassist Jamie Markowski and drummer TJ Rosenman.
Musical sounds of The Cherry Drops were developed from Shank's love for 60′s & 70′s bubblegum, garage rock and power-pop music genres. It has been defined as a groovy pop sound, like something you thought you've heard before, yet never have. Throw in a blender the harmonious sounds that are reminiscent of The Beach Boys, The Beatles, The Archies & some Partridge Family along with a little flare, and you've got the formula for their standout album, Everything's Groovy. It's an unending parade of rock and roll gems and standing out above them all is the track "Outta Sight!"