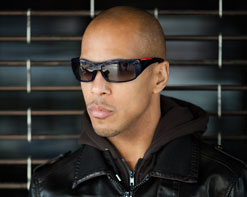 Artist:
JEREMY CARR
Label:
STADIUMRED
Video:
"JUST ONE BREATH"
Director:
Eric M. Wolfson
Add Date:
MAY 22, 2012
It seems like it was really just a matter of time before we crossed paths with recording artist, Jeremy Carr. He is a New York City based artist who has collaborated with some of the HIP clients we all know and love like Patent Pending and Ultra Records (JES) while making a name for himself these past few years. He's an artist who is as comfortable with RnB and Hip Hop as he is with House and Pop/Punk music. Jeremy is like many artists who get their first recognition in Europe; he started in 2007 with two Pop Hits in The Netherlands ("Turn The Lights Off" and "Physical Attraction") before breaking in Spain with "Sexy Girl" and "Deep At Night". It was in 2008 when Carr earned his first charting success in The United States. It would be "Deep At Night" that would first be recognized in The United States as a Billboard Top-10 Dance Hit. The record also got a nomination for Best Progressive House/Trance Track at The Dance Music Awards in 2009. In 2010 he made his first of many trips recording and touring in Scandinavia which would yield 3 Pop Hits in 2011 and early 2012 which included the #1 Dance Hit Record "Celebrate Life" as well as "Happiness" and "Live Forever".
When he isn't touring, you can usually find Jeremy holed up at the studios in New York City's Stadiumred where he writes and records most of his music. The premier facility houses 5 studios working with a wide variety of artists from Yoyoma to Chris Brown, Talib Kweli and Ludacris to name a few. For the new single, "Just One Breath" Carr turned to some heavy-hitter friends; dj/producer duo Mysto & Pizzi (Justin Timberlake, Beyonce, Ciara) and in our humble opinions may have created his best work yet. This standout record & video are just what the doctor ordered to take Jeremy to the next level. Featuring some of the slickest, most memorable and current production to date, the track is front to back magic and gives Carr an opportunity to showcase his huge charisma and soaring vocal talents.
In the video for "just One Breath", the title takes on an urgency of life and death proportions. A freak car accident has sent Jeremy and his female passenger (Mexican actress, Fernanda Romero) to the hospital , clinging to life by a thread. As the mystery patient is wheeled in to the emergency room, Jeremy stands watch encouraging them calling out that all he needs is "Just One Breath" to keep fighting. The tension is high and only broken up by the serenity of the couple together in white sheets and soft lighting, presumably in an easier time and place. Jeremy is seen throughout the hospital, not letting go of the fight even as he is lifted skywards and into the light that consumes him. We won't give it away here, but the story plays out like a classic love story tragedy that will tug at your heart strings and most likely give you pause to think about the saying, "til death do us part"…
We are very excited to be working with Claude & Marc Zdanow and the entire Stadiumred crew to bring you this infectious clip. We're here to hook you up with whatever you need to get this video into your rotation. For our Northeast programmers, we'd love to see you at the official "Just One Breath" release party on Tuesday, May 8th at Avenue (116 10th Avenue, NYC) which will feature open bar and music by Mysto & Pizzi. You can RSVP by emailing "JOB RELEASE PARTY" to RSVP@stadiumredny.com. For more information, you can also call Andy Gesner and the HIP crew at (732) 613-1779 or email us at info@HIPVideoPromo.com.