HIP Video Promo provides full-service NATIONAL, INTERNATIONAL, REGIONAL, RETAIL, VIDEO ON-DEMAND and INTERNET outlet music video promotion, as well as considerable social media exposure. We have promoted over 2700 music videos from many of the best independent bands and artists on the planet.
Here at HIP we have over 17 years of experience working with numerous major labels (Sony, Universal, Warner, etc.) and labels with major distribution (Lost Highway, Tommy Boy, etc.), but we also specialize in helping smaller labels like Merge, Polyvinyl, Sub Pop, PIAS, Dualtone, InGrooves, FatCat, Daptone and SideOneDummy get the word out about their artists and music videos. Even though we champion some of the most exciting independent artists in the industry today, we also give equal attention to up and coming artists that may either be unsigned or on a small independent label.
Currently Servicing: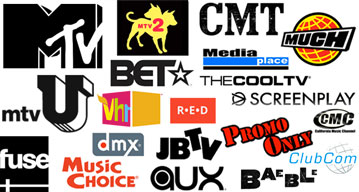 … and many more!
MUSIC VIDEO PROMOTION SERVICES
At HIP Video Promo, we are fully aware that your music video and visual content is your most potent piece of marketing currency. We are fearless when it comes to promoting cliche-defying artists outside the mainstream, while always remaining highly selective in the projects we promote. Our constant goal is to supply our programmers and internet partners with the videos their viewers really want to see.
Here are the Music Video Promotional services that HIP Video Promo provides:
– Crafting a custom tailored marketing plan
– Writing your signature story
– Quality Control, Closed Captioning and Digital Delivery of music video and visual content
– Creating top quality, professional original video content (interviews, live performances, etc
– Securing online music video, song and album world premieres
– Disseminating PRWeb "video embed" press releases
– TV placements and music video exposure in retail locations, nightlife venues and fitness centers
– Website & blog features, interviews, Q and A's and high profile placements
– Social media marketing and optimization
– Twitter and Instagram promotion to secure new fans and followers
– Growing YouTube subscribers
– Growing SoundCloud followers
– Social Media sage wisdom to increase your online digital footprint
– YouTube link optimization
– Improving our client's Search Engine Optimization (SEO)
– Real time pitch reporting
– Weekly Consultation and Conference Calls
HIP Video Promo has built the most impressive client roster in the industry, promoting videos by such epic talents as Pearl Jam, Pixies, The B-52's, The Blind Boys of Alabama, Sheila E., Johnny Cash, Moby, Elvis Costello, and Mötley Crüe, as well being on the ground floor with artists like The Lumineers, Sia, 30 Seconds To Mars, Maroon 5, Armin van Buuren, Rich Chigga, Sharon Jones and the Dap Kings, M83, Paramore and others on their way to stardom. We haven't forgotten our roots, though; and new or independent artists get the same HIP combination of unmatched expertise, unique experience and untrammeled enthusiasm as the superstars. HIP has established and maintained a solid, ever growing network of contacts throughout the music video programming world, and is continually updating the most comprehensive database anywhere of music video programming outlets, which cuts across all stylistic and geographic borders.
We are a full service music video promotion company with over seventeen years of experience and over 2700 music videos promoted. We've worked extensively with major labels (Universal, Atlantic, Sony) and labels with major distribution (4AD, Tommy Boy, Armada), but we are also integral in helping smaller labels like Merge, Polyvinyl, Sub Pop, Dualtone, Saddle Creek, Ultra, In Grooves and Side One Dummy get the word out about their artists and videos. We specialize in helping many independent artists with no label affiliation at all.
The most important asset these days for any artist or band is increased awareness. Not only would we be exposing your music video on the many websites and blogs that we'd be pitching to, but also to the dozens of terrestrial television channels, retail pools and on-demand programming outlets (whether it be in the United States, Canada or Europe) that we have longstanding relationships with. This "one-two punch" approach is very helpful to your overall marketing plan to increase exposure and it will help you dramatically in securing the maximum amount of exposure possible for the your current music video. We also pitch to numerous OTT channels (television delivered via the Internet) currently found on platforms such as Apple TV, Roku, Sling, Amazon Fire, and Google Chromecast, as well as some other built in programs like certain Samsung Smart TVs, etc.
There's a lot of up front attention to detail involved in a successful music video campaign (closed captioning, digital delivery, correct labeling, DMDS (Digital Music Delivery Service), submission forms, etc.), but rest assured that here at HIP, we take all the necessary precautions to assure you that the your music video arrives to all of our programming outlets and online partners ready for immediate programming. The costs of the campaign include a stringent quality control check, making edits when necessary, digital delivery (DMDS) and closed captioning, all important requirements of a successful music video marketing campaign and connecting with the maximum amount of eyeballs.
HIP Video Promo will promote your music video to select national outlets (mtvU, REVOLT, Fuse, etc.) and regional video shows (California Music Channel, JBTV), retail video pools (outlets that provide in-store music video programming to retailers, fitness centers, shopping malls, nightlife locations etc), video-on-demand providers (Music Choice, Havoc TV), mobile phones and tablets, nightclubs and numerous high profile Internet outlets and popular blogs.
Since HIP Video Promo has been on the music video playing field for over seventeen years, we know the programmers personally and have enough experience to steer clear of the pitfalls they're used to experiencing, like receiving videos that are not broadcast quality or internet ready. We provide professional digital delivery of your video in all the required formats and file sizes for all the various outlets, each with a complete and accurate slate, closed captioning, proper completion of required submission forms, and we always adhere to a keen, unflappable attention to detail throughout the entire preparation process.
Another potential pitfall is a programmer receiving a music video with little or no further information to help in facilitating their programming decision. HIP super-sizes every video campaign with a professional, originally written video promotion one sheet (your signature story) that accompanies each video pitch and is featured on our website and social media. (To see examples of our well written video promotion one sheets, click on any artist among the "Our Clients" section on our website.) This is where we, as your video promoter, present the case of why your video is worthy of the programmer's attention.
We don't neglect the personal touch, either. We maintain very friendly relations with all the important point people at the national outlets and high profile internet outlets, but never take for granted the many video programmers and programming opportunities in all the remote corners of the music video community, including numerous secondary and tertiary markets throughout the country. We pitch your video to many smaller, curated websites and blogs and also set up video interviews and on-air performances when you go on tour.
A few important and warmly received features of the HIP services we provide is the creation of our YouTube page (12.5 million views and counting), which we use to provide exposure and attention to our artist's videos and interviews, and our HIP Video Promo Blog is updated daily with the freshest, most up to the minute news, music and video content from our cherished clients.
Our Facebook, Twitter, Instagram and Google Plus social media platforms, which we utilize to disseminate all of the newest, updated information about our clients to prospective programmers and fans alike in real time, are robust with intriguing, compelling content and is a favorite destination for members of the music video programming community, management companies, record labels, artists and fans alike.
The journey begins by reaching out to owner and President Andy Gesner to discuss your project!
Terms of Services
We encourage our clients to sign a terms of agreement prior to the start of the campaign. Though it has always been our goal to secure the maximum amount of exposure possible for our client's videos, we are merely presenting the video to our programming outlets in a professional and compelling way, and in no way can we guarantee video airplay and/or placement on said programming outlets.
Rating
[Total: 31 Average: 4.5/5]