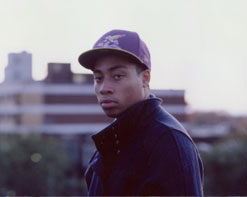 Artist:
CADENCE WEAPON
Label:
UPPER CLASS RECORDINGS
Video:
"CONDITIONING"
Director:
Tim Kelly
Add Date:
MAY 21, 2012
Cadence Weapon continues to firmly establish his legacy as a sonic pioneer while constantly pushing the rap and electronic music envelope. Following his critically acclaimed, Polaris Music Prize nominated albums Breaking Kayfabe and Afterparty Babiesand a two year term as Edmonton's Poet Laureate, he returns with a brand new album, Hope In Dirt City out on Upper Class Recordings on May 29th.
Cadence Weapon, real name Roland Pemberton, was born with hip hop in his DNA. His father, Teddy Pemberton, a Brooklyn native and the muse for Cadence Weapon's acclaimed sophomore album,Afterparty Babies, was a pioneering college radio DJ and in 2010 was inducted into the Hall Of Fame during Canada's National DJ Awards, the Stylus Awards. He's credited for introducing hip-hop to Rollie's hometown of Edmonton, Alberta through his show, The Black Experience In Sound on CJSR-FM.
Starting at the tender age of 13 years old, Roland first achieved notoriety for his mixtapes and later for his own debut album,Breaking Kayfabe, which earned him nominations from the Polaris Music Prize, Canadian Indie Awards and "Best Rap Album of 2006" at the Plug Independent Awards. It's also gotten him onstage with artists likes Public Enemy, Lupe Fiasco, and Kool Keith, as well as on the road with Jurassic 5, Final Fantasy, appearances at Glastonbury, Lollapalooza, Rokslide, Pitchfork Music Festival and much more. Remixes of Grimes, Chad VanGaalen and Rick Ross have only served to up his fame and set him up for his most ambitious effort yet, the new album called Hope In Dirt City, available May 29th on Upper Class Recordings.
The lead single from Hope In Dirt City is the standout track "Conditioning", which is 3 blazing minutes of rhymes, musings and introspection that is delivered with an old school approach that showcases Pemberton's baritone delivery. Scour the internet for more on "Conditioning" and everyone from MTV Iggy, to Pitchfork and The Fader all acknowledge the Tim Kelly-directed clip. They're all praising the old school look and feel of the video with Cadence working his way through the rain-soaked streets of Montreal with his crew, hitting the basketball court, the boxing gymnasium and a plethora of run down spots, all of which are the things that make the man who he is and are an integral part of his personal conditioning. There's an honesty and genuine feel to this video that is in line with all of the things that has made Cadence Weapon a hot commodity, and we're confident this will resonate with all of your viewers.
We're very excited to be working with the folks at Upper Class Recordings to bring you this standout clip. Please don't hesitate to be in touch if you need anything from our end, including the opportunity to catch up with Cadence Weapon on his extensive North American and UK tour, that includes a stopover in Barcelona for three performances at Primavera Sound this spring. If you need more info you can contact Andy Gesner and the HIP Video Promo crew at (732)-613-1779 or email us at info@HIPVideoPromo.com . You can also visit www.UpperClassRecordings.com orwww.CadenceWeaponMusic.com to find out more about Cadence Weapon.