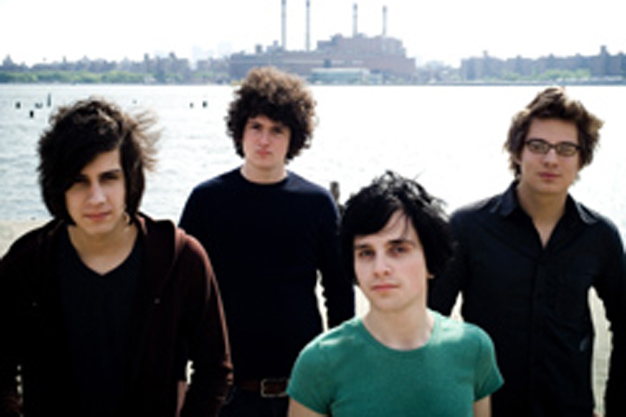 JET LAG GEMINI
"Run This City"
Director: Brad Go
DOGHOUSE RECORDS
Add date – 11/05/2007
Greetings music video lovers far and wide! It's Andy Gesner and the staff of HIP Video Promo, here with an incendiary clip from New Jersey's brashest party band. You know here at HIP we have an affinity for promoting videos from our fellow Garden State artists and this particular video also happens to mark a monumental occasion for us! We are very proud to announce that this is the 500th video we have promoted here at HIP, and it couldn't be from an artist any more dear to our hearts than Jet Lag Gemini, Doghouse Records' newest sensation, ready to follow in the footsteps of Meg & Dia, Say Anything, and The All American Rejects, to name a few
"To the left I got my friends, and they're ready to swing," testifies singer-guitarist Misha Safonov, "to the back I got my army, they're as big as the sea – and it looks like yours is just ready to leave." This is the sound of the takeover according to Jet Lag Gemini, a four-piece rock and roll, pop-punk piledriver with a frightening surplus of energy, an album's worth of terrific tunes, and a middle finger for anybody foolish enough to stand in their way. Safonov is Russian by birth, lead guitarist and bassist Vlad and Matei Gheorghiu hail from Romania, and drummer Dan DeLiberto is American – but when they plug in and rock, their music speaks the international language of hooks, riffs, and beats. Their concerts have already made a powerful statement: they've shared stages with Halifax, hellogoodbye, Punchline, A Day At The Fair, and other like-minded bands, and they've never failed to win converts wherever they've played.
No wonder, then, that the Fire The Cannons single is already making noise on American campuses. They have already claimed the top prize in recent MTVu Freshmen voting. The first Jet Lag Gemini clip is every bit as irreverent as you'd expect it to be based on the group's reputation – but make no mistake, there's nothing self-parodic about it. If anything, the group is sending up the stuffiness of workplace conventions, and poking fun at the sober-sided nature of outdoor performance clips.
The "Run This City" video finds the quartet at work in a dreary-looking modern office. They maintain their demeanor for a few bars, but there's no keeping these kids in check; by the first chorus, they're Xeroxing each other's faces, horsing around on the ergonomically-correct chairs, and throwing sheafs of paper into the air. Poker-faced employees need a lift, too, including one fetching desk-worker who takes awhile to notice the revelry building around her (don't worry, eventually she gets into it)! Before long, Jet Lag Gemini has kickstarted a party, and the walls of the little office feel too small to contain their enthusiasm. Elsewhere, the band takes to the urban streets to serenade pedestrians – but instead of genuine instruments, they rock on cardboard cut-outs. By never taking themselves too seriously, the members of Jet Lag Gemini allow themselves the freedom to inhabit the "city" with style and flair, and maybe even to engineer the takeover they're singing so brightly about.
Huge props to the entire Doghouse Records staff for bringing us this video and making our 500th video such a special one! It is always our greatest pleasure to work with them and their artists. We have plenty of signed copies of Fire The Cannons available for all of your on-air giveaway needs so let us know and we'll hook you up. You will also be seeing Jet Lag Gemini on tour this fall and early next year, so hit us up if you'd like to catch up with them for a video interview! If you need more info, call Andy Gesner at 732-613-1779 or e-mail us at info@HIPVideoPromo.com. You can also visit www.DoghouseRecords.com to find out more about Jet Lag Gemini.