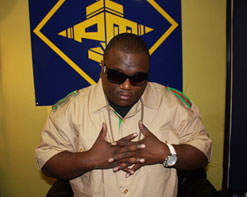 Artist:
PLAYAMADE KEV
Label:
PLAYAMADE RECORDS
Video:
"SUNNYSIDE UP"
Director:
Jeff Adair
Add Date:
MAY 22, 2012
We're all big believers that staying positive is the best way to approach life. Be happy with what we have, and don't let the lows ever be too low. We even have a few sayings around the HIP office we like to invoke like "if you love what you do you'll never work a day in your life" and "let failure be your teacher, not your undertaker". So naturally we found ourselves immediately relating to the new "Sunnyside Up" video from the Dallas, TX native Playamade Kev. It's his ode to staying positive when life gets you down, and reminding all of us to just take it one day at a time. Even when life seems to be a bit scrambled and maybe you think that other people's lives are picture perfect, when you look at things sunnyside up, there's no need to look at the other guy's grass and think it's any greener than yours.
It's perfectly natural that a guy like Playamade Kev has such a bright and positive disposition. Life is good for Playamade Kev. Not only is the featured artist on Playamade Recordz, but he's also the CEO! He's constantly exploring creative concepts that relate to the thriving demographics of music buyers, and with the new release ofBoiling Shrimp / Frying Fish, he takes the art of songwriting mixed with trunk banging production to another level. Playamde Kev embraced the hip-hop culture from the moment Louisiana pioneers such as Mystikal, Cash Money Records, and Juvenile introduced their star power in "the boot". He's found the perfect partner in crime along the way, producer Supa Dave, and the two of them are now regularly releasing priceless pieces of production, showing us what can happen when great minds think alike.
The new video for "Sunnyside Up" is a laid back romp through a day in the life of Playamade Kev and Supa Dave, which involves a healthy amount Duck Hunt, bowls of cereal, a few beers here and there, and a classic infomercial featuring Playamde Kev and lady in tow pitching them on a diamond encrusted spatula. They remind us regularly that the grass isn't always green on the other side, and maybe the fancy spatula is just there way of making the best with what they have. The song moves along with the funky Motown styled baseline that is practically singing a melody all by itself. The clean Stratocaster tone of the guitar gives it all a relaxed feel that makes it the perfect anthem for a warm sunny day, and with a friend like Supa Dave at his side, and a fine looking woman on his arm, life is good for Playmade Kev.
We're all excited to be working with Playamade Kev to bring you this standout track! We've got plenty of copies of Boiling Shrimp / Frying Fish on hand for you and your viewers, so please don't hesitate to get in touch! If you need more info you can contact Andy Gesner and the HIP Video Promo crew at (732)-613-1779 or email us at info@HIPVideoPromo.com. You can also visit www.Facebook.com for more info about Playamade Kev.