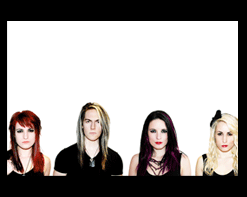 Kane'd are an imaginative six-piece alternative indie rock/pop band fronted by three all-American rock chicks. Behind the girls, you'll find an unbelievable all-male backline that sends the chords of the tunes soaring. HIP Video Promo is pleased to introduce the enigmatic video clip "I See Ya."
Apart from the high-energy, Kane'd will amaze you with unique harmonies and musical riffs. Creating their own material makes for a raw and organic sound, which has been honed by working with some of the industry's top producers and writers. With their first album Beautiful But Tragic, featuring the hit single "Alive," Kane'd is slowly turning heads.
The hit single "Alive" was featured as the title track on the movie remake of Night of the Living Dead starring Gemma Atkinson. With impeccable drive and contagious energy, Kane'd is making a name for themselves. Their newest clip "I See Ya" features a live performance that you won't want to miss! Click here for the full bio.