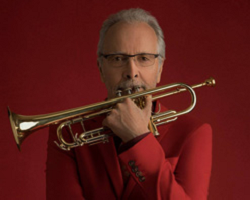 It's a commonly held belief that music is a young person's game, and that, therefore, all musical careers must be short-lived. But to anyone who feels this way, we present to you the one and only Herb Alpert. After over sixty years in this business, he's still going strong at the age of 83. He grew up in Los Angeles, and began taking trumpet lessons at the age of eight. While serving in the US Army, he performed at military ceremonies; later, while studying at the University of Southern California, he was a part of the Trojan Marching Band for two years. Though he dabbled in acting, he soon enough realized music was his true calling.
What are his achievements? To start, he's sold over 72 million records worldwide. And while it's always impressive when an artist manages to score a Number 1 hit, but Alpert is also the only recording artist to hit Number 1 on the Billboard Hot 100 chart as both a vocalist (with "This Guy's In Love With You" in 1968) and an instrumentalist (with "Rise" in 1979, on which he played the trumpet).
But that's only scratching the surface of Herb Alpert's achievements. He's continued to release studio and live albums, and in 2014 he won the Grammy Award for Best Pop Instrumental Album for his 2013 release Steppin' Out. Along with Jerry Moss, he founded the label A&M Records. In 1997, both received a Grammy Trustees Award for their achievements as label executives, and a decade later, the Grammy Lifetime Achievement Award in 2007. Alpert also received an honorary doctorate from Berklee College of Music and a star on the Hollywood Walk of Fame – oh, and did we mention he and Moss were inducted into the Rock and Roll Hall of Fame for their non-performer achievements at A&M? Just one of these accolades is enough to boost an artist's career significantly, and it's rare to achieve all of them!
Of course, Herb Alpert is still going strong and we have a feeling he won't be stopping any time soon. In fact, earlier this year we teamed up with him to promote the clip for his take on the Louis Armstrong classic "What A Wonderful World." For a musician as eternally optimistic as Alpert, the song is a perfect fit; even better, all proceeds from the single are being donated to the Louis Armstrong Educational Foundation. His version blends influences from reggae to Latin music, and the clip – which is stylized to look like an old film strip, perhaps something out of the Tijuana Brass era – concludes with a heartwarming image: a young Alpert and Armstrong standing together onstage, horns in hand, sharing a laugh.
With a career spanning more than sixty years and an ever-present sense of joy and optimism in his music, Herb Alpert's story is one full of inspiration and motivation. We can't wait to see what this talented trumpeter will do next, and we hope this helps start your week off on a brighter note!