Check out: Abi Ann "Don't Let Me Be Lonely" Music Video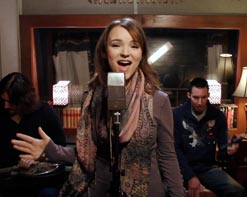 From the artist who brought you "Daydreaming" comes a powerful rendition of "Don't Let Me Be Lonely" by The Band Perry. Abi Ann has style and grace, and HIP Video Promo is pleased to present you with her new, awe-inspiring clip.
Since her beginnings in the western Texas city of Midland, Abi Ann has been turning heads on the contemporary music scene. She has already reached millions of fans across the globe, proving that this untamed artist is the real deal! From theater performances to pop and country music renditions, Abi Ann is making a name for herself after moving to sunny Los Angeles.
Her music has already been placed in films and television shows, and she's performed at venues such as Whiskey A Go Go, The Avalon, and House of Blues. Abi has toured nationally as part of JNEF's No Bully National Tour as well as her very own DayDreaming tour. As America's Favorite Teen Country Artist, Abi Ann has proved to be this year's most memorable country artist.