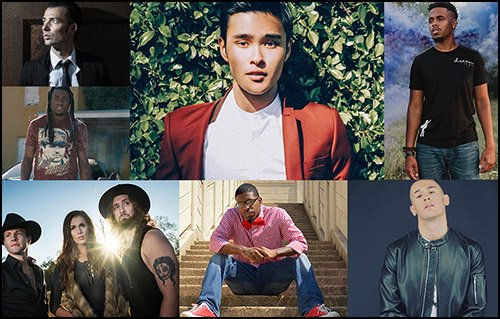 HIP Picks – The Weekly Client Roundup – Wednesday 5/17
Hello and welcome to the HIP Video Promo Blog!
We're getting closer to summertime here in New Jersey, and while the sun is out now, it was pouring rain all weekend. Never fear, though… no matter the weather, we're always hard at work teaming up with labels and bands to find new artists and new music videos to promote. From indie rock to hiphop to everything in between, we do it all!
To keep you in the loop, here's a round-up of what we've been working on over the past few weeks…
We've partnered with artists from all over the globe, but Cade Thompson is our first client from South Dakota. Though he's only 16, he already has a significant presence in the Sioux Falls worship music scene. The "Treasures" music video is inspiring, the "You are a treasure" signs an uplifting reminder of the value each of us holds in this world.
Laust Sonne's music video for "Reckless" is a colorful, exciting, and kaleidoscopic clip. In the video, the Danish singer, multi-instrumentalist, and composer (he produced his latest album, Relations, himself) is seen wearing a variety of different suits, playing every instrument, and driving a Porsche through clouds of colored smoke. Part disco club banger, part pure pop ballad, the beat is infectious.
Kyle Davis has been hard at work for years. At 16, he made it through five rounds of American Idol, and at 21, he's setting up interviews and booking performances at big events, while working on new music that' soulful, R&B-tinged pop like Nick Jonas or Bruno Mars, but with a dark mysterious edge, like The Weeknd. The "Rental" music video shows Davis surrounded by beautiful women who dance provocatively around him in a hotel. It ends with one woman walking out of the elevator and dropping a dollar in her purse.
Piano lessons and years of singing in church have given Jaylon Ashaun a unique perspective on music; when he began creating his album My Identity, he took equal influence from soul and alternative music. The "Settle" music video shows Ashaun surrounded by masked characters, who creep around as he slowly realizes his own strength and potential.
Juice Yung'n proudly calls Gainesville, Fla. home, but for the "Aayy" music video, the rapper headed south to Miami. He partnered with Terry Elliott Sr. to film the clip at a trap house in the notorious Liberty City neighborhood. In the "Aayy" video, the stakes are high, the thrills are real, and the beats and performances are irresistible.
From 1981 till now, Force M.D.s have proved themselves a classic in the hip-hop, doo-wop, and R&B genres. Their latest effort, "Don't Rush", shows the group's members leading their women around New York City and eventually to candlelit bedrooms. Whether your tastes are modern or retro, chances are you'll love it.
If you've ever seen Flava Flav's Flavor of Love, Mista Roe's music video for "Bees and Birds" might feel familiar. In the smooth and sensuous clip, the "RnB King of Shreveport Louisiana" is surrounded by swarms of women who vie for his attention. The video ends, but the story doesn't, as "To be continued…" flashes across the screen.
The SLVR Tongues recently premiered their video for "S-Class"] over on Music-News.com. The video sees vocalist Hannah Huntley recalling a steamy rendez-vous with her ex from the night before. This "Outlaw Country" trio is as glitzy as they are gritty, and we can't wait for the world to get on board.
Chicago-based prog-rock/post-rock group Avantist recently premiered the music video for "Tidalwave" over on Music-News.com. The video follows a young professional, who- after a rough day of work- escapes his frustrations when he sees Avantist perform.
Will Jay is ready to step into the spotlight with his music video for "Leading Man". He takes influence from classic artists like The Beatles and Elton John, modern songwriters like Adele, Jason Mraz, Bruno Mars, and Sam Smith, and his musical theater background, all of which are evidenced in this track. The "Leading Man" shows Will (who is of Chinese and German descent) auditioning for a kung fu movie, only to lose the role to a less-skilled white actor. It's an incredibly catchy song, and socially aware: the video is a commentary on the "whitewashing" of Asians in Hollywood, where Asian characters are often portrayed by white actors.
Written by Molly Hudelson. Molly is a music blogger, photographer, and Founder / Editor-in-Chief of Circles & Soundwaves. Follow her on Twitter and Instagram.