Justina drops two magnificent new clips!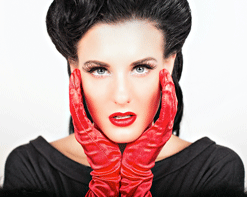 When we last saw Justina, we were introducing you to her by way of her video for "Halloween" which was a raucous and rambunctious clip that was a direct shot at all of the fake phony frauds who hide behind layers of makeup, ridiculous outfits and basically anything to avoid showing their true selves. Justina is all about embracing her true self and who she is, and the video was rousing sensation with our programmers, as well as a nice peek at what was in store for her new EP, Valentine.
Fast forward to now and look back at the past 4 months to see just how hard this girl hustles. Since the "Halloween" video she has spent two months on the road opening 27 dates for Mike Stud on The Relief Tourand another week opening for Hi-Rez on the F— Hi-Rez Tour. Her Valentine EP, which features collaborations with multi-platinum producers Infamous, Shy Boogs, and The Heatmakerz, also debuted at #38 on the iTunes R&B Chart, proving that this hardest working girl east of the Mississippi is the real deal! And while "Halloween" was a light-hearted good time from beginning to end, for her next two videos, Justina has decided to offer us a glimpse into the deeper side of her persona.
The first clip "That Ring" is an emotionally draining clip that reminds us that for all of her bombastic traits and larger-than-life persona, she still has a big heart. And with big hearts sometimes comes big heartbreak. "That Ring" doesn't pull any punches or speak in riddles and mysteries. It's a straightforward ballad about how sometimes no matter how much you love someone, that sometimes things are beyond repair and that even a beautiful diamond ring is only masking the real problems. The song and video shows an incredible level of depth of introspection and seeing her intimately delicate delivery makes us the viewer feel as though we've been witness to something incredibly personal.
For the second video "Unbelievable" Justina puts a little more sass in her step, reminding us that she is still a tough cookie that you don't want to cross. The video features some of her most striking looks yet, as she teamed up with Priscilla Lomotey of Shop Saiko & fellow NYC designer Mishka, to fit Justina with the sexiest outfits yet. The song itself is a soul-soaked kiss-off to those that have done her wrong and who she is determined to cut out of her life. Justina knows that she can do bad all by herself, and that in the end friends are supposed to be the ones who help, not do constant harm.