Malea releases new music video for "Rainbow Girl" (Remix)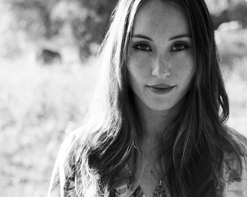 HIP Video Promo's premier artist Malea's music is unique and quite down-to-earth. With inspiring lyrics and impeccable vocal melodies, listeners cannot help but become enthralled with her beckoning demeanor and noteworthy style.
While her previous single "Running in the Desert" had an organic rock and roll vibe, the original version of "Rainbow Girl" from the Prism album has a pop-laden electronic beat behind it and oozes a catchy melody, invoking a vibe not unlike Madonna's "Like A Prayer." The common thread is Malea's soothing and powerful vocal delivery. When she teamed up with the Papercha$er collective to produce a remix for "Rainbow Girl" they approached with the same mission statement that Papercha$er puts on all of their work; "to make people dance while creating the highest quality dance music possible." Mission accomplished! The song retains all of the fluid vocal delivery and melodies that make the original so desirable but they've upped the dance factor to a considerable degree. The low end thumps and the high end paints an energetic cornucopia that pushes this already outstanding song into the stratosphere.
It's only appropriate that the video for "Rainbow Girl" possesses a cosmic look to it. "Running in the Desert" proved that Malea was capable of delivering top notch visuals, and "Rainbow Girl" takes that proclamation and takes it to another level. With a regular visual of both rainbows and prisms, the video seamlessly glides through a digital galaxy of stars, planets, and everything in between. It does come back to earth at times to treat us to scenes of silhouettes dancing, large crowds losing themselves in the music, and waves that pulse to the beat of the music. While "Running in the Desert" was focused on a solo element, "Rainbow Girl" is a far reaching treat that takes everything we know about Malea and super sizes it for a presentation that is easily the brightest and most colorful video you will encounter this year.