Patent Pending releases Christmas video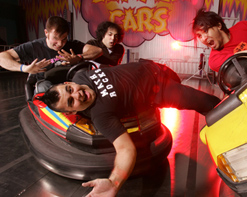 Patent Pending is spreading the Christmas cheer everywhere with their new video, "She's a ho ho ho Merry Christmas." Yeah. Spreading, umm the cheer.
Although the video starts out in corny NSYNC style, with a candy-cane microphone and Christmas sweaters and sparkling snow, we are soon led astray by a woman who likes to bang Santa Claus, and everyone else too. A humorous parody on all those cutesy Christmas videos that make you want to throw up in your mouth a little bit.