Premiere: Hammer Throw A.K.A. of Montreal "Young Champion" via Revolt TV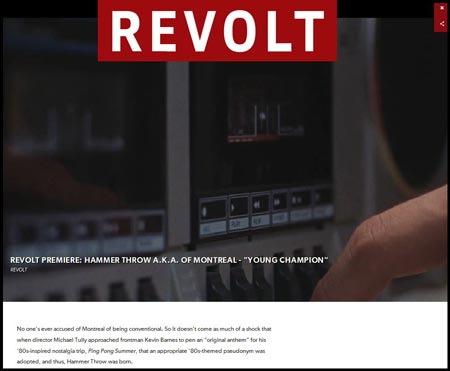 Today saw the premiere of Hammer Throw's new video "Young Champion" on Revolt TV! The band is comprised of 3 members of indie heroes, of Montreal, including frontman/bandleader Kevin Barnes. The song and music video are directly tied to an awesome forthcoming feature film starring Susan Sarandon and a slew of other great actors, entitled Ping Pong Summer.
Check out a couple of excerpts from the great write-up on Revolt.tv below, and check out the video here.
"No one's ever accused of Montreal of being conventional. So it doesn't come as much of a shock that when director Michael Tully approached frontman Kevin Barnes to pen an "original anthem" for his '80s-inspired nostalgia trip, Ping Pong Summer, that an appropriate '80s-themed pseudonym was adopted, and thus, Hammer Throw was born."
"Alongside an abundance of Adidas tracksuit and wig action, the video leans heavily on cuts from the film, which stars Susan Sarandon, Lea Thompson (who will always be Marty's mom to us), Judah Freidlander, and John Hannah, and tells the story of a 13-year-old boy in 1985 obsessed with, of course, two things, ping pong and hip-hop (and from what we can gather, girls are in there somewhere too)." – Revolt TV