Watch: Passerby "www,iig"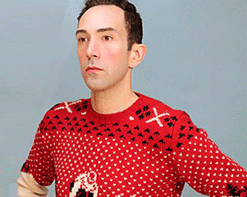 Inspiration can come from some of the most peculiar places. The key is not necessarily being able to convert that inspiration into art, but rather being able to identify those moments when they happen. For Mike Vecchio, and his performance alter-ego Passerby, that moment came on the city streets that could have been like any other. Or rather, it happened underneath the city streets. A wheelchair-bound artist named Joseph was selling his original artwork and Vecchio quickly became a fan and began to amass his own collection.
The song for "www,jig" began as a basic drum beat and synth bass and it was when he added the oboe and mellotron that things really clicked. In his own words Vecchio says that the song instantly took on the musical theme of "an old UFO sci-fi movie from the 50′s" and it was at that moment that he connected that sound with the childlike innocence of Joseph's drawings about UFO's and alien themes. With hints of everything from Deefhoof to Magentic Fields to of Montreal, the song itself is the perfect blend of quirk and pop that it creates the perfect soundtrack to what a pop/alien invasion might sound like. The video premiered on BrooklynVegan.com.