Artist:
THE BLIND BOYS OF ALABAMA
Label:
REAL WORLD/VIRGIN
Video:
"HIGHER GROUND"
Director:
Steve Hanft
Add Date:
November 7, 2002
We are very proud to announce that we have teamed up with Bruce Sullivan and the very cool folks at Real World Records/Virgin to bring you an extremely inspirational debut video by Grammy Award winners The Blind Boys of Alabama. Unquestionably the world's hippest septuagenarians, The Boys perform the wonderfully uplifting Stevie Wonder soul classic "Higher Ground." The song features dueling guitar work by Ben Harper and pedal steel phenom Robert Randolph (Harper calls his experience performing with The Boys "one of the greatest musical moments of my life.").
If ever the world needed encouragement, guidance and a positive message, it is now. The Blind Boys of Alabama are a symbol of persistence, survival, passion, heart and life. It is important for us to see examples of men who have traveled through the rumble and tumble of life and come out the other side smiling, dancing and singing. The Blind Boys of Alabama may indeed be physically blind, yet they still have the uncanny ability to show us the way through a celebration of life and existence. When asked at the Grammy's last year how they had managed to stay together for so long, member Clarence Fountain answered, "Ain't got nothing else to do." After more than 60 years, The Blind Boys of Alabama are still bringing their old time soulful harmonies to new generations.
Since forming their group at the Alabama Institute for the Negro Blind in 1939, they have kept alive the spirit and energy of pure soul gospel music. Founding members Clarence Fountain, Jimmy Carter and George Scott – along with more recent arrivals Joey Williams, Ricky McKinnie and Bobby Butler – master the haunting falsettos and vibrant, muscular harmonies that have become the trademark of The Blind Boys of Alabama for over six decades. And at ages when most men have retired from life's spotlight, they continue to play sold out, jaw-dropping performances all over the world.
The new album pulls together a rich assortment of classic and contemporary spiritual songs, many from the soul music tradition – with compositions from Curtis Mayfield (People Get Ready), Prince (The Cross), Aretha Franklin (Spirit in the Dark), Jimmy Cliff (Many Rivers to Cross), Ben Harper (I Shall Not Walk Alone), Stevie Wonder's title track, and, yes, even Funkadelic (Me and My Folks).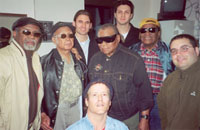 Directed by Steve Hanft (Beck, The Red Hot Chili Peppers), the "Higher Ground" clip begins black and white with The Blind Boys of Alabama heading to a typical day of work, which for them is entertaining people and lifting their spirits. The group enters a building, boards an elevator and starts their ascent upward. Their first stop is church. As soon as their performance begins, not only do people rise to their feet and sing along but the video turns from black and white to color. The effect is clear – The Blind Boys of Alabama are spreading their energy and vibrancy to the people around them and it is incredibly contagious. After this performance they head back into the elevator, go up a few more floors and get out to perform in a large venue for people of all different colors and ethnicity. Wherever they go, they leave people energized and electrified.
Finally, as the clip comes to an end, the Boys board the elevator one more time and head up to the roof for their final performance. This time it's just them, singing straight to the camera. All that can be seen behind them is a bright blue sky. In essence, through the course of the video, The Blind Boys of Alabama have made their way through what started out as a dark and gray day and turned it into a gorgeous, sunny, hopeful day via their positive message, their persistent spirits and their love of music and life. A message so simple, it might be overlooked if it weren't for the incredible uniqueness of the men who are sending us the clues. The message — if you keep on keeping on you'll eventually find sunshine.