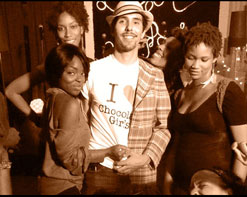 Artist:
DAX MAFESI
Label:
DAX MUSIC
Video:
"I LOVE CHOCOLATE GIRLS"
Director:
Tyler Payne
Add Date:
MAY 21, 2012
Hello fellow music video lovers, it's Andy Gesner and the HIP Video Promo crew bringing you a must-see clip! Those Friday night beats are back again and viewers across the country will be pleased to enjoy the grooves of Dax Mafesi. His late-night beats will tease and electrify your funk music standards, and the shock and awe of it all will extend your need to release your inner funk. With his quick ability to entertain your ear buds with conga drums, eccentric electronic beats, and a touch of a very talented horn section, Dax's music is something that cannot be denied. Unlike most of mainstream music, this artist blends both hip-hop and funk together with elements of soul music to create masterpieces of spellbinding musical epiphanies.
Born in Miami, Florida, Dax Mafesi presents his audiences with songs such as "Moves Like James Brown," and "Funk in the Hustle." His fresh sound illuminates the grandness of modern hip-hop, but soulfully transcends that very music that moves and shakes us all—funk music. Dax Mafesi currently resides in LA's music scene, where his music reflects his cultural upbringing. The electric beats, drums, and horn sections of his music have a certain soul about them—sort of a Lenny Kravitz meets James Brown feel. The undoubted bass guitar floats simply in the background of it music, but it lingers in a way that sends the roots of Dax's music straight through your bones. The HIP Video Promo staff and Andy Gesner are pleased to introduce this new video for his single, "I Love Chocolate Girls."
The storyline of the video is based around a small child and his attraction to "chocolate girls." His need to fulfill his desire for chocolate begins in a convenient store parking lot, where his parents leave him in the car as he waits for them to buy him chocolate. This irony is not subtly, and it is clear that Dax has strived to raise some sort of laughter out of his listeners. Of course there is a playful and humor filled notion to this video, in which we see Dax performing on stage with a pair of sunglasses and an all-female rock band. The exterior of his performance may trick you into something that makes you believe that he is not serious, but it is certain, through your bits of smiles and quirky laughs, that there is no denying the funk when it comes to Dax Mafesi and his celebration of strong, independent and beautiful women.
"I Love Chocolate Girls" is a song that captures a complete essence of an up and coming celebrity that will address the powers of soul through quirky and characteristic approaches. Dax Mafesi will not leave you empty handed, and you will find yourself wanting more from this hands-down, unique artist. It is unlikely for an artist to recreate something from the funk era, but instead Dax's music carries it's own unique style as it hits home for many classic funk music fans. For more info you can contact Andy Gesner and the HIP crew at (732)-613-1779 or email us at info@HIPVideoPromo.com . You can also visit www.DaxM.Bandcamp.com for for information about Dax Mafesi.