Here at HIP Video Promo, we've been working hard to promote music videos since the year 2000. It's important to us to help younger and independent artists get the recognition they deserve, and it's exciting to be on the ground floor with artists that become household names (and with over 4000 videos under our belts in 21 years, there are quite a few). Every Friday, we'll be sharing a "Flashback Friday" video, where we get to reflect on one of our favorite videos from a few years ago.
When we think of groups that have defined popular music in the 21st century, Maroon 5 is an easy choice. They've managed to crossover from rock to pop to R&B, and from the adult market to the younger set ("Makes Me Wonder" made a splash on the Hot Adult charts, and they also performed it at the 2007 Kid's Choice Awards). But success didn't happen overnight: originally formed as Kara's Flowers while founding members Adam Levine, Jesse Carmichael, Mickey Madden, and Ryan Dusick were in high school, they were dropped from Reprise Records when their 1997 label debut The Fourth World underperformed. The members of Kara's Flowers went off to college, and hit the ground running again in 2001 after finding new inspiration.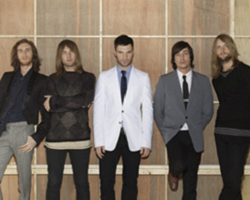 After signing to Octone Records and some lineup changes, Maroon 5 released their debut album Songs About Jane in 2002. Songs About Jane was a sleeper hit, reaching its highest success in 2004 – more than two years after its release; it spawned three hit singles ("Harder To Breathe", "This Love", and "She Will Be Loved") and sold more than five million copies in the US and more than ten million copies worldwide. They released their sophomore album It Won't Be Soon Before Long in 2007, and its first single, "Makes Me Wonder", became the band's first to reach Number One on the Billboard Hot 100 chart, and won a Grammy Award for Best Pop Performance by a Duo or Group with Vocal.
In May 2007, we partnered with Maroon 5 and the team at Octone Records for the first time to promote the video for "Makes Me Wonder." This clip takes Levine and co. to a futuristic disco-airport hybrid version of LAX; decked out in crisp suits, the band performs in front of a stage-lit terminal before dealing with the most alluring security personnel you'll ever see.
That October, we promoted Maroon 5's follow-up clip for "Wake Up Call." Directed by veteran director Jonas Akerlund (who's also the mastermind behind videos by Madonna, Metallica, The Rolling Stones), "Wake Up Call" is presented like the trailer for a big-budget action flick. It's glamorous, edgy, and full of betrayal, emotional excess, and crimes of passion.
Just over a decade later, Maroon 5 have released four more albums: Hands All Over (2010), Overexposed (2012), V (2014), and most recently, Red Pill Blues (2017). To date, they've sold more than 50 million records worldwide, won several awards (including three Grammy Awards and four Billboard Music Awards), and toured the globe extensively (in addition to plenty of headlining runs, they've supported John Mayer, The Rolling Stones, and The Police, and co-headlined with Train and Kelly Clarkson). Oh, and they give back, too: Maroon 5 has partnered with REVERB, an environmental non-profit to help make their tours "green" and encourage fans to take action, since 2008.
---
We've been big fans of Maroon 5 from the start, and we're thrilled to see what they do next! We can't wait to see who becomes the next break-out artist. Do you think your video has what it takes to be the next break-out smash hit? Get in touch with Andy Gesner and the rest of the HIP Video Promo team by giving us a call at (732)-613-1779 or emailing us at info@HIPVideoPromo.com.