Here at HIP Video Promo, we've been working hard to promote music videos since the year 2000. It's important to us to help younger and independent artists get the recognition they deserve, and it's exciting to be on the ground floor with artists that become household names (and with over 4000 videos under our belts in 21 years, there are quite a few). Every Friday, we'll be sharing a "Flashback Friday" video, where we get to reflect on one of our favorite videos from a few years ago.
Over the past few years, so many beloved bands have called it quits. It's always hard to hear the news of a favorite breaking up, and few have hit us harder than Motion City Soundtrack. Justin Pierre's lyrics were witty and full of pop culture references but they also approached anxiety, alcoholism, and the many trials and tribulations we all go through in our lives. They were a band that many people around the world- including all of us here at HIP- took comfort in when dealing with growing pains of our own, but in March of 2016, they announced that they'd be calling it a day following a farewell tour.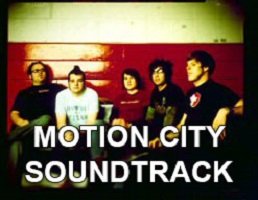 But let's step back in time a bit. After playing in various other bands, Pierre and guitarist Joshua Cain joined forces in 1997 to form Motion City Soundtrack. For a few years they played local shows around Minneapolis and toured when they could get time off from their day jobs. Motion City Soundtrack gradually began hitting the road more and more and sold copies of their debut album I Am the Movie at shows and on their website. The band received offers from several labels but ended up signing to Epitaph Records, who re-released I Am the Movie in 2003 with four new songs. Following the June 24 release of the album, "The Future Freaks Me Out" was released as the first single from the album on September 16.
The video for "The Future Freaks e Out" is a take on the movie Rushmore. Set as a school play, we see Pierre having all kinds of bad days, from a rough day at the office to struggling as the captain of the ship. But even as he's swept overboard and later seen in a coffin at his own funeral, the video is ultimately an optimistic one. The scenery is intentionally and over-the-top cheesy, and sure, the future might freak Pierre out (don't we all feel the same?) but he'll continue to live another day, and the video ends with him sitting straight up and jumping out of the coffin to perform with his band.
With international tours supporting blink-182 under their belts and blink-182 bassist Mark Hoppus as their producer, Motion City Soundtrack saw breakthrough success with their second album Commit This To Memory in 2005. Their music videos saw regular rotation on MTV2 and the band performed on Late Night with Conan O'Brien. Commit This To Memory was followed with Even If It Kills Me in 2007, also released on Epitaph Records. Motion City Soundtrack then signed to Columbia Records and released the album My Dinosaur Life in 2010; they returned to Epitaph for the follow-up Go in 2012. After celebrating a decade of Commit This To Memory with a tenth anniversary tour in the spring and summer of 2015, Motion City Soundtrack released what would be their final album, Panic Stations on September 18 of that year.
Panic Stations didn't see the same commercial success as some of Motion City Soundtrack's previous albums but nevertheless it's one of our favorites. Songs like "TKO" and "Lose Control" felt like classic Motion City Soundtrack songs while "It's a Pleasure to Meet You" and "Days Will Run Away" saw the band coming full-circle and offering the older and wiser perspective. The band performed several songs from the album on a fall 2015 tour with The Wonder Years as well as on their So Long, Farewell Tour across North America from May to September of 2016. For their final performance at the Metro in Chicago, which took place exactly a year after Panic Stations was released, they played thirty-six songs, some dating as far back as their 2000 EP Back to the Beat. There's no doubt in our minds that fans around the globe still cherish Motion City Soundtrack's albums: the group have seen immense excitement in reaction to recent touring announcements.
---
We're profoundly proud to have been a part of establishing Motion City Soundtrack's career as one of alternative music's most cherished groups, and we can't wait to see who becomes the next break-out artist. Do you think your video has what it takes to be the next break-out smash hit? Get in touch with Andy Gesner and the rest of the HIP Video Promo team by giving us a call at (732)-613-1779 or emailing us at info@HIPVideoPromo.com.