Flashback Friday: Foals
January 13, 2023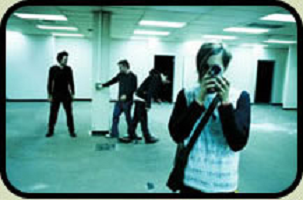 Flashback Friday: 30 Seconds To Mars
January 20, 2023

New This Week: "Ordinary Love" music video from Dontae Peeps and "Toure de Lide" music video from Baba Jenkins
Can you believe we're already almost halfway through January? We've got two killer new music videos to share! The latest HIP Picks – Weekly Client Roundup is here; take a look at the videos, and learn more about the clips by reading below.
"Ordinary Love" Music Video: Dontae Peeps (R&B)
Hailing from Atlanta, electrifying artist Dontae Peeps has the vibes of '90s R&B, but in the clip for "Ordinary Love" (directed by Clear Motion Pictures), he's singing about a modern-day lover's conundrum: the smartphone. Coming from such a musical hotbed, it's no surprise Dontae has worked with major names like Usher, Birdman, Raheem Devaughn, Jaheim, and many others.
"Touro de Lide" Music Video: Baba Jenkins (rock n roll)
Funk rockers Baba Jenkins know: don't underestimate the bull. In "Touro de Lide", from their incendiary debut album Copper', the band sings about the perils of living life on the wire. The music video (directed by Joe Meza) ends as it begins: lead singer Rone Worthen is on the floor, breathing hard, glasses askew, and the world blurring around him.