HIP Picks: New Videos from NYA, Sebastian Lightfoot, and Changing Tymz | 3/10/2023
March 20, 2023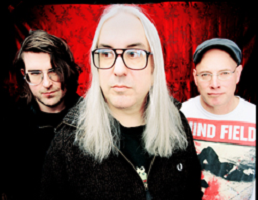 Flashback Friday: Dinosaur Jr.
March 24, 2023

New This Week: "Panic!" music video from Carbon County, plus new music videos from Jason Owens, Amanda Holley, LAN LAW, and The Lori P Davis Project
From rock to country, from pop of all flavors to singer-songwriters, we're proud to partner with a variety of musical artists across The latest HIP Picks – Weekly Client Roundup is here; take a look at the videos, and learn more about the clips by reading below.
"Panic!" Music Video: Carbon County (rock)
Carbon County's "Panic!" is featured in the film Millenium Bugs – making an explosive and unforgettable combination. For the "Panic!" video, the band have teamed up with Millennium Bugs director Alejandro Montoya Marin and veteran comic actor Tommy Chong, who plays a gruff laundromat manager. The power may be out, but Carbon County still bring the voltage.
"Party Like You" Music Video: Jason Owens (country/pop)
Jason Owens loves a good party, but the Kentucky native is also a romantic, and his heart is always with the people he loves – most importantly, his wife. "Party Like You" is an unconventional country love song. The video (directed by Bob Mills) shows Owens at a hopping party – but more intrigued by what's happening at home.
"Fav Flavor" Music Video: Amanda Holley (pop/R&B)
With a following of 38.6k on Instagram and a buzz among industry professionals, Amanda Holley is well on her way to true superstardom! "Fav Flavor" was released in 2022 to follow hits like "Code" and "Run Away". The track was produced by XXXL Freshman Class Producer Korey Laws aka OhKayLaws, and it's now received an accompanying video, which Holley directed alongside Mikey Piliero.
"Hillbilly Legal" Music Video: LAN LAW (country)
Country duo LAN LAW – brothers Lance Curtis and Lawrence Wayne – have caught the eye of Grammy and Emmy-winning producer Jamie Tate (Taylor Swift, Thomas Rhett, Justin Moore, Garth Brooks, Brooks and Dunn, Blake Shelton) and landed a recording contract with Dolly Parton's producer, Kent Wells. "Hillbilly Legal" (video directed by Steve and Jennifer Caughron) is a country anthem for the ages.
"Bad Boy" Music Video: The Lori P Davis Project (singer-songwriter)
After years as a master of ceremonies in Akron's events scene, Lori Davis is taking her learnings to create expressive, sing-a-long country-pop songs. The first release from The Lori P Davis Project is "Bad Boy". "Bad Boy" was co-written by Davis, John Stafford, and Phylis. Davis herself – who has directed and produced all of her music so far – wrote, directed, and produced the music video for "Bad Boy."