Here's the ideal release strategy for your next song and music video!
April 7, 2023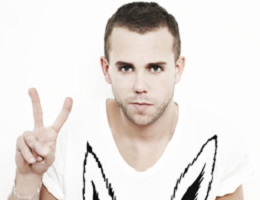 Flashback Friday: M83
April 14, 2023

New This Week: "Vacations Matter" music video from D3X, plus new music videos from Scoville Unit, Shaheed and DJ Supreme, Echezona, Rich Wyman & Lisa Needham, and ADVM
We're excited to share six new music videos this week – some from new artists and some from returning friends of the HIP family – and with every release, these artists connect and pay homage to their roots. The latest HIP Picks – Weekly Client Roundup is here; take a look at the videos, and learn more about the clips by reading below.
"Vacations Matter" Music Video: D3X (rap)
Jordan Adair, better known as D3X, rose up in music by releasing songs on Soundcloud before placing them on larger streaming platforms: his 2021 hit "Wireless" landed on Spotify's editorial "Fresh Finds: Hip-Hop" playlist. "Vacations Matter" comes from his upcoming album I Hate I'm The One, and Isaiah Thompson's video cooly communicates the vibe of the song.
"Reasons" Music Video: Scoville Unit (indie pop)
NJ quartet Scoville Unit makes songs that sound straight from '80s college radio while also feeling completely current. The video for "Reasons", from the upcoming album See What Can Be, was directed by Tarana Parekh / HIP Video Productions. It's an emotional clip, and a humorous one, too.
"The Art of Throwing Darts (ft. Slug)" Music Video: Shaheed and DJ Supreme (hip-hop)
Shaheed and DJ Supreme use their hip-hop tracks to model what it means to use creativity and craft to educate, combining traditional boom-bap rap with relevant sentiments. "The Art of Throwing Darts" (directed by Richard Giles) is the title track from their highly-anticipated upcoming album, and it features the legendary Slug of Atmosphere.
"TMH" Music Video: Echezona (rap)
Born to Nigerian parents and raised in Boston, genre-transcending artist Echezona is the distillation of melting-pot America, equally steeped in Kanye and Jay-Z and Nigerian legends like Fela Kuti and Eddie Quansa. His recent release "TMH" ("too much heat") was produced by JPRiZM. The "TMH" video shows viewers what they'll get when they buy into Echezona's world.
"Forgiveness" Music Video: Rich Wyman & Lisa Needham (pop)
Rich Wyman & Lisa Needham are known for brilliant, unforgettable soul and R&B tracks. Their latest, "Forgiveness", is a thrilling listen. In Bryce Johnson's video, they're shown both as bandleaders, and in isolation communicating desire, remorse, sympathy, and outrage to each other.
"Weekend" Music Video: ADVM (rap)
Originally from rural Quebec, rising popstar ADVM (pronounced "Adam") reps his adopted hometown of Vancouver with the "V" in his name. Once in Vancouver, his songs caught the attention of Canadian songwriter CLVRK, who put him through an intense musical bootcamp. The "Weekend video (directed by R. Malcolm Jones) shows ADVM waking up from last night's party after sending his parents out of town Aaron Carter style.