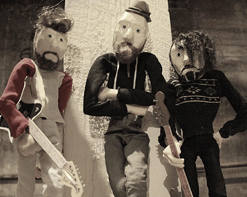 The electrifying collaboration of E V Kain is just what the contemporary music scene needs. Filled with vibrant guitars and lasting vocals, the band is this year's hottest new effort and HIP Video Promo is pleased to be introducing their fresh video clip for the tantalizing single "Yes No Maybe."
Just this year, a crew of bright Californians put together a three-piece band and named it E V Kain. Bass player Jonathan Hischke, known for his widespread talent in bands such as Broken Bells and Hella, teamed up with Brian Belier and Jon Sortland respectfully on guitar and drums. Their first studio production is a two-song 7" release; the two tracks featured are otherworldly and unique.
You've got to take a listen for yourself to understand the artful mathematics that are involved in EV Kain's conceptual musical arrangements. Already having shared the stage at the request of underground stalwarts such as Cedric Bixler-Zavala, Tera Melos and The Thermals, EV Kain is set to head back to the studio to record a full-length album. In the meantime, they have left us with two taunting tracks.
"Yes No Maybe" is a song that surely lights up a room. Drummer/vocalist Jon Sortland created and directed the clip; he and his production company Pixel Eyes Productions have collaborated to finely tune this artful creation. The video begins with a nostalgic stroll into a video arcade straight out of the 80's. To anyone that grew up around games like 720, Zaxxon, Galaga , et al, the 8-bit sounds are unmistakable and will surely take you back. Just as soon as the game gets started (with the E V Kain guys as the main characters), everything goes awry and their miniature puppet counterparts appear, complete with mini instruments and all.