After 22 solid years of promoting music videos, many of our videos have skyrocketed to the top. Today, we present you with one of our most-watched videos on our Youtube channel. The Gaslight Anthem is a true New Jersey success story: they rose from the vibrant punk scene of New Brunswick to become international icons.
Ever since 2007, they have been mashing the styles of their neighbor Bruce Springsteen, Motown, and emotional fortitude of Against Me!. Frontman Brian Fallon always looks for ways to expand the Jersey Shore sound. Bandmates comprising of Fallon (vocals/guitar), Alex Levine (bass), Benny Horowitz (drums), and Alex Rosamilia (guitar) released their first album, Sink or Swim via the local label XOXO Records. By the end of their initial year, The Gaslight Anthem played over 200 shows, scoring gigs with Against Me! and the Draft.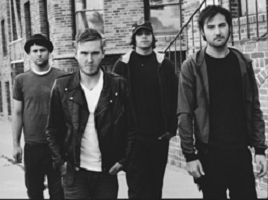 After securing spots on some of the most notorious festivals in the world like Lollapalooza, Pinkpop, and Reading and Leeds, they spent the majority of their time in the studio and moving up the ranks of major labels. Their indefinite hiatus in 2015 ended in 2018 when the band played a series of concerts to promote the release of The '59 Sound Sessions. Fallon has also found success with his solo career, which he continues.
We had the absolute pleasure of working with The Gaslight Anthem on five of their songs. One that sticks out is "Great Expectations" released in April of 2009. They received over 63k views on our YouTube channel, with fans championing them as "classy," "cool," and "amazing" in the comments. The music video captures the band's kinetic live performances, finding them in a gray concrete room with chandeliers shining the dampness on the floor. The band rocks out in their domain without the need or aid of images. They can truly bring their music to life with their own charisma. 
Written by HIP Administrative Assistant Melissa Ng.