Here at HIP Video Promo, we're all about helping promising new indie artists make it big. There's nothing more satisfying than working hard to promote a music video, and seeing the success of that video help springboard a band's career to the next level. Hearing these stories – of how a hard-working act was able to make it big! – is a surefire source of inspiration and motivation for the next generation of new stars, so we're thrilled to present you with a new segment on the HIP blog: Motivation Monday, where we share motivational stories of our beloved current and alumni clients. We now present to you the beautiful flower which is Breathe Carolina that we watched blossom.
Breathe Carolina went from headlining Warped Tour to being on the lineup at electronic festivals. These sub-genre kings have earned their place in the music industry as they have shifted and evolved their band into a completely different sound quite seamlessly. This music duo was originally composed of David Schmitt and Kyle Even, with David on melody and beat while Kyle provided the scream-core vocals to send them into emo-core royalty. But their level of notoriety from experimenting with different sounds, fashion and visuals didn't happen overnight. From a MySpace post to the Billboard Charts, their story tells the travels of two hopeful musicians with the right team behind them to guide them.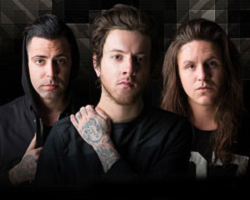 In their early teens, Dave and Kyle were a band based out of in Colorado. Despite their dedication to the craft, their band disbanded and they were left with a question: should they remain a duo? Myspace had just started to blow up and a lot of hopeful producers were putting their songs on the platform as a tool to get their art to a wider audience. Dave's friend was producing music off of Garage Band, the less-than-reliable free software that comes with a Mac laptop. Kyle had just gotten kicked out of his house and had nowhere to turn. Having an existential crisis before turning twenty, he was faced with confusion and anxiety about his next plan. Dave supported his friend as they creatively grew and inspired each other, evolving their cheap Garage Band songs into something substantial despite the production setbacks. After the first few months on Myspace, they gained an insane about of popularity from goth girls, scene-core kids and the rejects who loved their extreme sound.
Who doesn't remember "Blackout"?
The group quickly got signed to a prominent label, Rise Records. They put out their first full-length studio project in 2008 entitled It's Classy, Not Classic, which showed a wide variety of scream-core and metal aspects that they could cultivate. Their second album Hello Fascination was a landmark for its generation during the late 2000s which turned them from "Blackout" to breakout. Complete with songs like "Hello Fascination," "IDGAF," "Dressed to Undress," and "My Obsession", it has now been engraved in the hearts of many music fans. In 2011 they put out Hell Is What You Make It: Reloaded which contained a plethora of singles and music video releases from the album's original tracklist- not to mention their vast number of EPs they have put out consistently throughout their career.
They were the dudes everyone wanted to be and even convinced a few men to start wearing eyeliner to get hot girls. They were showing a rapid level of growth and expansion in their talents but in 2013 shocking news that Kyle would be leaving to raise his newborn baby. They were the dynamic that many musicians only dream about- and it was about to turn into a nightmare. It seemed like the band that once was only posting on Myspace would soon be frizzled out like a one-hit wonder. Kyle was growing up and the music industry was shifting and changing. With scene-core dying out and punk music shrinking in popularity, Dave decided to change his fate.
The club-ready, synth-heavy sensibilities that Breathe Carolina had become known for transitioned into an electronic-centered approach. Dave had always been building the melodies and the breakdowns, but now paired with a new appreciation for EDM, he decided to collectively evolve the band. In 2014 Tommy Cooperman and Eric Armenta joined forces to release their fourth album entitled, Savages. Signed to Fearless Records they topped the Billboard Top 200 chart peaking at the number 22 spot on the Dance/Electronic chart. With the public fully accepting their change, without too much backlash from longtime fans- present day Breathe Carolina is now one of the only Myspace bands to remain in existence which proves their determination, perseverance and natural talent that had been called in question by critics.
Even though their sound changed, their ability to perform only got better- reminding us all why they stole our hearts at first sight. Their pure stage presence stays active as Schmitt often works with the crowd with no restraint and sometimes surprises them with blacklight reactive paint. The band has stated that the change has been a process of trial and error to find their right place regarding their audience. In between their studio sessions, they even got to collaborate with Armada Trice and head shows with Apek and Phoenix Paul.
Check out their music video "Platinum Hearts", which we promoted in 2015:
Breathe Carolina has been a genuine hard working band from the start. They started as confused teenagers in their bedrooms producing music off of Garageband. They had a dream and knew they had a knack for producing beats and laying down lyrics. With the first step of putting their music on a platform, they gained success and shot to the top while growing their skills at a fast rate due to the overnight success. When they faced the tough reality of a member leaving the band, they did not for a second question if they should break up. It was through a heightened self-awareness that Dave knew that he had something to give the world and took the signs from the universe to complete his vision. By taking a risk, it saved his career but also did not conform to being a sellout. Breathe Carolina years later still produces music that channels and inspires them. Their high energy shows have not stopped as they keep the same energy they had when they were first performing at Warped Tour. It is their genuine energy to entertain and produce that they will continue to ride and also die for. Previous fans are not mad at them for changing their sound but inspired by the force of their rebellion that made them stand out acts on the first click.