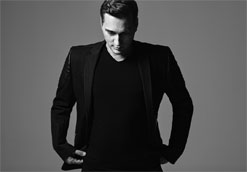 Recently, German trance superstar Paul van Dyk released his new music video for "Music Rescues Me" (featuring Plumb) – and would you believe music really did rescue him?
For nearly three decades, Paul van Dyk has been an innovator in the worlds of trance and electronic music. The German DJ grew up in a single parent household in East Berlin, and secretly listened to forbidden Western radio stations to gain exposure to music around the world. In 1991, he made his first appearance as a live DJ at The Tresor, an underground nightclub in Berlin. In 1996, his second studio album Seven Ways brought him success in the UK, was voted the #1 album by readers of DJ Magazine, and established him as a trance pioneer. He continued that reign in 2005 when his 2003 album Reflections earned him the first-ever Grammy Award nomination for the brand new category of Best Dance/Electronic album.
Over the course of the next decade, van Dyk continued to create music, release albums, and tour around the world. He embarked on headlining tours and performed at major festivals all over the globe. But in February 2016, van Dyk suffered a tragic accident. While performing at the ASOT (A State Of Trance) Festival in Utretcht, he fell from the stage and was airlifted to a nearby hospital. He sustained a concussion and cracked vertebrae, and was transferred to a facility in Berlin in May.
Due to his injuries, several performances had to be canceled, but van Dyk was not down for good! In June of 2016, he returned to the road, with performances at festivals like Electric Daisy Carnival in Las Vegas and Luminosity Festival in the Netherlands. Although the accident had meant time off and delays in writing and recording, his spirits would not be damaged: his eighth studio album, From Then On, was released in 2017 to immediate acclaim. Billboard called it "a celebration of a beautiful life", and we couldn't agree more. With song titles like "Touched By Heaven" and "I Am Alive", it was a reminder of how grateful van Dyk was to recover and to continue to have the opportunity to inspire others through his music.
Paul van Dyk's new album, Music Rescues Me (which will be released this fall), is set to continue on this theme. We currently have the pleasure of promoting the video for its title track, which features van Dyk's long-time collaborator Plumb. Tranquil yet energizing, the video for "Music Rescues Me" shows a group of adolescents being swept away by the power of music.
It's a true honor to work with Paul van Dyk; not only is he a legend in the world of trance, he's an inspiration for anyone who's been knocked down to get back up again.