Here at HIP Video Promo, we've been working hard to promote music videos since the year 2000. It's important to us to help younger and independent artists get the recognition they deserve, and it's exciting to be on the ground floor with artists that become household names (and with over 4000 videos under our belts in 21 years, there are quite a few). Every Friday, we'll be sharing a "Flashback Friday" video, where we get to reflect on one of our favorite videos from a few years ago.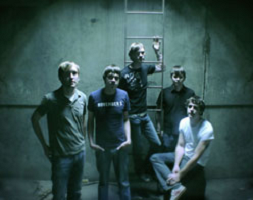 Anyone who's been around the indie-rock game for long enough is familiar with Seattle natives Minus The Bear. When we first partnered with them in September 2005 to promote their video for "The Game Needed Me" , they were fresh off the release of their second studio album Menos el Oso (2005, Suicide Squeeze Records). Built around synthesizer stabs, guitar squeals, and computer-manipulated sound effects, "The Game Needed Me" is a strangely beautiful post-punk / math-rock masterpiece. Director FAD created a clip that was both bright and approachable yet detached and apocalyptic, squeezing the quintet into a two-dimensional city landscape. The dark drays and steely blue-greens feel intimidating yet unstable, as the director's furious cuts feel as frantic as the band members' outsized personalities in their performances. The city won't stand for long, but as everything crumbles around them, Minus The Bear plays on.
Shortly after, we partnered with Minus The Bear for three more videos: "Pachuca Sunrise" in April 2006, "Knights" in August 2007, and "Throwin' Shapes" in 2008. For their 2010 LP Omni they signed to Dangerbird Records, with whom they also released their 2012 effort Infinity Overhead. But nearly five years after Infinity Overhead and over a decade after we'd first partnered with them, Minus The Bear returned to their original label home of Suicide Squeeze Records for their sixth studio album VOIDS, released on March 3, 2017.
It was a thrill to once again partner with the band to promote the video for "Last Kiss" in 2017. "Last Kiss" is the opening track on VOIDS and the visuals are as dizzying as the song's guitar riffs, as silhouettes of the band spin against a colored background, while glimpses of New York City's landscapes peek through. The video was produced and directed by Dan Huiting (Bon Iver, Sylvan Esso), who said,  "When I first heard Minus the Bear's 'Last Kiss,' I instantly saw the band performing in a new, digital world that would be beautifully surreal and also very geometrically pattern inspired. I think we ended up with a video that represents the band very well, they look and sound great, and we were able to come up with some super rad effects and a piece as a whole that everyone involved is proud of."
---
We've been fans of Minus The Bear since day one, and we're eager to see what else they have in store for the future! We can't wait to see who becomes the next break-out artist. Do you think your video has what it takes to be the next break-out smash hit? Get in touch with Andy Gesner and the rest of the HIP Video Promo team by giving us a call at (732)-613-1779 or emailing us at info@HIPVideoPromo.com.